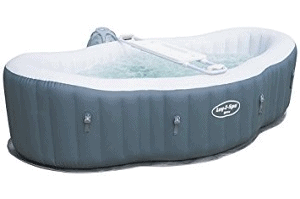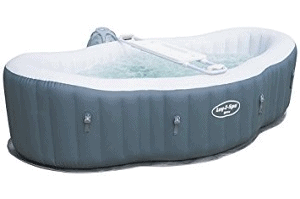 Right off the bat we have to tell you we totally love the SaluSpa Siena AirJet! The fact that the manufacturer decided to build a hot tub especially for couples, and how they have done it in such a unique and quirky way, we think it's fantastic.
SaluSpa have designed this hot tub so its shape is more like a large canoe than the traditional round hot tub design. This means that two people can fit in easily and comfortably, one at either end, or they can cuddle up side by side, making it perfect for a romantic evening.
When you add in the powerful AirJet massage system, the cushioned floor, and the drinks and refreshment tray, you have a super hot tub that is worth checking out if you're looking for a 1 or 2-person model. It's a mid-range priced model, with the best deals available online at Amazon. You can check out the latest deal by following this link. But you might need to be quick, as the price does change.
SaluSpa Siena AirJet – What You Get In The Box
 SaluSpa Siena AirJet Inflatable Hot Tub

 127 AirJet massage system

 104F rapid heating system with timer control

 Digitally controlled heater pump with integrated water filtration & massage system

 Drinks and snack tray

 Internal cushioned floor

 Protective ground mat

 Leather-style inflatable and insulated lockable cover

 Chemical floater

 2 filter cartridges

 Repair kit

 Owners' DVD
We have put together a table to show you everything you need to know about this hot tub, including the technical details. We have also compared it to some other hot tubs which are also meant for 1 or 2 people. We hope you find it useful!
SaluSpa Siena Features & Comparisons
SaluSpa Siena
Saluspa Realtree
SaluSpa Hawaii
Lay-Z Spa Miami
External dimensions
98in x 59in x 26in deep
71in diameter x 26in deep
71 x 71 x 28 inches
71in diameter x 26in deep
Internal dimensions
78in x 39in x 26in deep
51in diameter x 26in deep
54 x 54 x 28 inches
51in diameter x 26in deep
Capacity
(stretched out)
2 adults
2 adults
2-3 adults
2 adults
No. of air jets
127
88
114
81
Water capacity (80%)
135 gallons
192 gallons
222 gallons
211 gallons
Filled weight
1,205lbs
1,629lbs
1,938lbs
2,261lbs
Set up time
10 minutes
15 minutes
15 minutes
15 minutes
Electrical outlet
110-120V
110-120V
110-120V
110-120V
Heating to 104F
18 hours
18 hours
24 hours
24 hours
Shipping weight
98lbs
35lbs
68lbs
68lbs
SaluSpa Siena
Saluspa Realtree
SaluSpa Hawaii
Lay-Z Spa Miami
Features
Inflatable hot tub
127 air bubble jets
Leatheroid exterior
Leatheroid top cover
Digital heater
Insulated lockable lid
Cushioned floor
Drinks and snack tray
Side grab handles
Insulated ground mat
2 filter cartridges
1 chemical floater
Owner's DVD
Inflatable hot tub
Realtree camouflage exterior
88 air bubble jets
Digital heater
Insulated inflatable lid
Insulated ground mat
2 filter cartridges
1 chemical floater
Owner's DVD
Repair kit
Inflatable hot tub
114 air bubble jets
Leatheroid exterior
Digital heater
Energy-saving timer
Insulated lockable lid
Insulated ground mat
2 Filter cartridges
1 Chemical floater
Pressure gauge
Owner's DVD
Repair patches
Inflatable hot tub
81 air bubble jets
Digital heater
Insulated inflatable lid
Insulated ground mat
2 filter cartridges
1 chemical floater
Owner's DVD
Repair kit
Tech specs
Heater – 1300W
Air Blower – 750W
Filter Pump – 12V/50W
Water flow - 350 gal/hour
Heater – 2000W
Air Blower – 800W
Filter Pump – 12V/50W
Water flow - 350 gal/hour
Heater – 2000W
Air Blower – 800W
Filter Pump – 12V/50W
Water flow - 320 gal/hour
Heater – 2000W
Air Blower – 800W
Filter Pump – 12V/50W
Water flow - 350 gal/hour
Best price on Amazon
Check it out
Check it out
Check it out
Check it out
Background Info
The SaluSpa Siena Airjet is made by the Bestway Corporation. It's constructed of their 3-ply reinforced TriTech material, and the walls have an internal I-Beam construction – a series of PVC panels which are based on the idea of girders and beams that are used in buildings in the construction industry.
These give the hot tub both strength and sturdiness, yet at the same time it remains comfortable to lean back in and relax against the walls. With its superior construction, along with the right amount of care, your SaluSpa Siena AirJet should last you for years.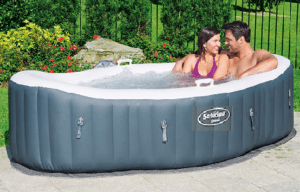 Because of its length, it is important you check you have the space to site this portable spa. Most round inflatable hot tubs measure around 6 feet in diameter.
The SaluSpa Siena Airjet, however, is 98 inches long. That's over 8 feet. Add on at least 12 inches either end for access, and you need a space of around 10 feet long where you can place your hot tub.  You'll also need that space to be at least 6 feet wide.
Due to its different shape, the SaluSpa Siena only holds 135 gallons when filled, which means it weighs about 1,200 lbs. This is 1,000 lbs lighter than some 2-person models, such as the Lay-Z Spa Miami. This makes the Siena a great choice if you want to put your inflatable hot tub on a deck.
If you decide this is the choice for you, then we're sure you'll appreciate the design of the SaluSpa Siena Airjet.  It really is great for couples. Stretched out one at either end, you both get a fantastic all over massage from the powerful 127 AirJets.  
Even sitting side by side at one end, you don't feel at all cramped, and you'll still enjoy a great massage.
With its superior length, the SaluSpa Siena AirJet is also perfect for one person to stretch out in complete comfort.  This makes it ideal for hydrotherapy and water exercise.  Add on the two very useful grab handles on the sides, and this portable jacuzzi would be a great choice for those who are looking for an inflatable hot tub for health reasons, but may be worried about getting in and out safely. 
You also get some good features and extras with this hot tub.  As well as the internal cushioned floor, there's a separate ground mat which keeps the underside of the hot tub protected.  
Then there's the leather-style inflatable cover, which keeps the water hot when the hot tub is not being used.  The cover has lockable straps to keep it securely in place.  These also give you peace of mind by keeping it safe from children getting into the hot tub when you are not around.
The addition of the drinks and snack tray by SaluSpa is a nice touch, and is something we really appreciate.  We wish every inflatable hot tub manufacturer would include an extra like this with every hot tub they make!
How To Set Up The SaluSpa Siena Airjet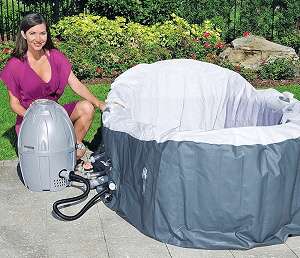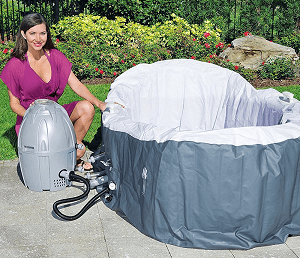 The SaluSpa Siena AirJet is a plug and play inflatable hot tub.  This means it requires no special knowledge or tools. You simply lay it out, plug it in and inflate it.  
It will take around 10 minutes from when you take it out of the box until you are filling it up with water.
Firstly, choose your site carefully and make sure it is clear of sharp stones or twigs. You can choose to site your portable spa either indoors or outside.  Most people choose to have their hot tub in the garden, yard, or on some decking.  
If you prefer, you can use yours indoors, but you will need to make sure the room is well-ventilated.  
To set up your SaluSpa Siena AirJet, lay out the protective ground mat in the place where you decide to site your hot tub.  Unfold the hot tub on top of the mat and then link it up to the control panel.  It takes only 10 minutes to inflate the hot tub, and then 1-2 hours to fill it with water.
Once the water is up to the maximum-fill mark which you'll see on the inside wall of the hot tub, place the inflatable cover on top and switch on the water heater.  It will take around 18 hours for the water to reach the maximum temperature of 104F (this is the maximum temperature for all hot tubs).
If you want your portable hot tub to be ready quicker than that, you can add hot water directly from your faucet.  This reduces the heating time dramatically.
Enjoying Your SaluSpa Siena AirJet
When the water is at your desired temperature, take off the cover and slip into the hot waters.  The soft touch digital control panel is conveniently located just outside the hot tub, so you don't need to get out to change the temperature or to switch on the massage system.
With 127 AirJets, the SaluSpa Siena AirJet gives a powerful body massage, and it is great for hydrotherapy as well as relaxation. You can decide whether to attach the beverage tray on the tub or not, but we like to have some bottled water or a soft drink to hand, to keep us hydrated.
The snacks tray is also good for holding personal effects, such as a watch or sunglasses.
Where To Buy It
We believe this is the best 2-person inflatable hot tub you can currently buy.  It is such a well-made hot tub, with SaluSpa's renowned quality and design. To find the best deal, we always suggest going to Amazon.com. It's a safe site to buy from and it often includes free delivery to your door. To check out the current price on Amazon you can click on this link.
24 votes
All images © Bestway Corporation.