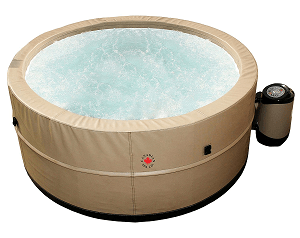 You want a hot tub that you can use outside all-year round, even in the coldest of winters? Then the Canadian Spa Swift is a great choice.
It's different from inflatable hot tubs, in that the walls are made of 5-inch thick foam padding. This means it's extremely well-insulated. It also makes it the most energy-efficient portable hot tub you can buy.
Another feature you will appreciate is that the Canadian Spa Swift is big enough to seat up to 5 adults – or even a family of 6 – in comfort. That's because the walls are not as thick as the walls in an inflatable hot tub – the foam padding means they don't have to be!
So even though it measures only 6 feet across, there's as much space inside the tub as there is in a large inflatable hot tub. It also doesn't require as much space to site as those bigger models.
The hot tub has a strong massage system as well, made up of 88 hydrojets. There are also 6 hydro massage seats inside the spa, so you get a comfortable and powerful massage experience.
With all these features, and such a high-quality hot tub, the Canadian Swift Spa is at the luxury-end of the price range. But you can still find some good deals over on Amazon by clicking on this link.
Canadian Spa Swift Current Portable Spa – What You Get In The Box
 Canadian Spa Swift Current Portable Spa

 6 hydro massage seats

 88 jet massage system

 8 x 5-inch thick foam sections for the walls

 Insulated foam base

 Internal spa base liner

 Internal vinyl spa liner

 External control unit which contains the inflator, water heater, and massage system

 Inflatable and insulated spa lid and cover with lockable straps

 Floating thermal blanket

 2 filters
With such an investment, it's useful to find out everything you can about this hot tub, including accessories that are included in the price and technical specifications. Therefore, we have created a table to help you see what's included, and to compare it to other, similarly-priced models.
Canadian Spa Swift Current Features & Comparisons
Canadian Spa Swift
MSpa Luxury Exotic
Intex PureSpa Jet Massage
Spa-N-A-Box
External dimensions
72in diameter x 29in deep
80in diameter x 28in deep
75in diameter x 28 inches
73.5in diameter x 27in deep
Internal dimensions
63in diameter x 29in deep
63in diameter x 28in deep
58in diameter x 28 inches
64.5in diameter x 27in deep
Capacity
(stretched out)
4-5 adults
4 adults
3 adults
3-4 adults
No. of air jets
88 + 6 Hydro Massage seats
8 hydromassage jets
4 hydromassage jets
127 + Turbo Wave massage feature
Water capacity (80%)
333 gallons
320 gallons
210 gallons
280 gallons
Filled weight
2,833lbs
2,781lbs
1,892lbs
2,569lbs
Set up time
45 minutes
40 minutes
30 minutes
20 minutes
Electrical outlet
110-120V
110-120V
110-120V
110-120V
Heating to 104F
24 hours
24 hours
24 hours
24 hours
Shipping weight
70lbs
151lbs
152lbs
91lbs
Canadian Spa Swift
MSpa Luxury Exotic
Intex PureSpa Jet Massage
Spa-N-A-Box
Features
Portable hot tub
8 x 5in foam padded walls
6 hydro massage seats
88 air bubble jets
Digital control panel
Lockable insulated and inflatable lid
Insulated foam base
Floating thermal blanket
Inflation hose
2 spare filter cartridges
Chemical float
Owners manual
Inflatable hot tub
8 hydromassage jets
Adjustable massage control
Leatherette crocodile pattern skin
Super-strong 6-layer PVC construction
Whisper-quiet motor
External heater
Touch button controls and remote control box
Lockable insulated cover
Inflatable lid
Heat insulator ground mat
Ozone generator
Inflation hose
Air pressure gauge
Garden hose adaptor
2 Spare filter cartridges
Owners DVD & manual
Inflatable hot tub
4 hydromassage jets
Digital control panel
Insulated lockable cover
Heat preservation mat
Hard water treatment system
Chemical float
Inflation hose
Filter cartridge
Repair kit
Owner's manual & DVD
Carry bag
Spa-N-A-Box hot tub
Reversible wood-style panels
2" thick vacuum-sealed insulated walls
127 air bubble jets
Turbo wave massage system
Digital panel
Inflatable lid
Insulated lockable cover
Protective ground mat
Inflation hose
Spare filter cartridge
Easy drain system
Owners DVD & manual
Tech specs
Heater – 1940W
Air Blower – 500W
Filter Pump – 12V/60W
Water flow - 460 gal/hour
Heater – 1350W
Air Blower - 800W
Filter Pump – 24V/50W
Water flow - 460 gal/hour
Ozone Generator
Heater – 1300W
Air Blower – 750W
Filter Pump – 12V/50W
Water flow - 460 gal/hour
Heater – 1000W
Air Blower – 800W
Filter Pump – 24V/50W
Water flow - 460 gal/hour
Best price on Amazon
Check it out
Check it out
Check it out
Check it out
Background Info
This hot tub is made by the Canadian Spa Company, who have been in business for over 35 years.  They are known for a wide range of high quality outdoor and garden products, including rigid hot tubs, saunas, swim spas, and of course their portable hot tubs.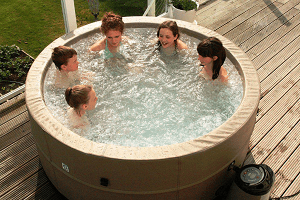 The Canadian Spa Swift Current is a round hot tub, measuring 72 inches across and, as we mentioned, it is 29 inches deep.  This makes it large enough for 6 people when they are all seated on the hydro massage seats. This makes it a good choice for larger families who have more than 2 children. 
If you are looking for a portable hot tub for 2 adults – especially one you can use in the depths of winter – then this would make a fantastic spa. If you are interested in using your inflatable hot tub in the winter, we have a guide to this which you can see here: 4 season inflatable hot tubs.
Having the walls built of thick foam is a great way to keep the heat in. When you add in the floating thermal blanket, and the inflatable and insulated cover, and you have a hot tub that keeps the water piping hot at all times. The water heater and massage system is powered by a low-wattage magnetic motor, as well.  
So when you add all of these features together, you can see why it costs only about half the amount to run the Canadian Spa Swift  than it costs to heat and run other inflatable hot tubs. 
How To Set Up Your Canadian Spa Swift Current Portable Spa
We have to say that it is a little more difficult to set up the Canadian Spa Swift Current Portable Spa than it is with other inflatable hot tubs. That's because you don't simply plug it in and inflate it. You have to set up the foam walls and then fit the cover over them. You will find, that having two people involved will greatly help and cut down on the set up time.
If you're not sure how to set up your spa, or you prefer to see the spa set up in action, then check out the video we have uploaded, at the bottom of this page.

Firstly, you need to lay out the spa base liner in the place where you are going to site your portable spa. This area needs to be at least 9 feet by 9 feet square. This is to allow access to the spa once it is set up. Make sure the area is free from sharp objects such as stones or twigs.  
If you are going to have your spa on a decking area, be sure to check that it will take the weight of this hot tub.  The Swift Current holds 333 gallons of water when full.  This means it weighs over 2,800 lbs, which is similar to the weight of a small family car.  So check the load bearing capability of your decking. This guide to load bearing capacity of decking which is over on the excellent decksgo website is a useful place to start.
Once the spa base liner is in place, add the foam segment which has the three holes in it, lining it up with the three outlet holes in the liner. Then add the other segments to build up the spa walls, adjusting them until they form a perfect circle on the base liner. Pull up the sides of the base liner, and double check that the outlet holes in the liner and the holes in the first segment of foam still line up.
Now put the two foam base pieces into the bottom of the spa, and check that the foam walls are flush. Place the inner liner inside the spa, pulling it up and over the outside walls.  
Next, pull the connector hoses out of the spa, through the inlet holes. Smooth the inner liner into place inside the hot tub, tucking it under the bottom of the foam walls to keep it in place.
Now zip the two vinyl covers together all the way around the outside of the portable spa.
Inflating The Lid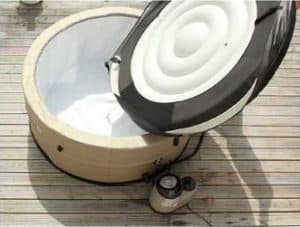 When that's done, place the control unit close to the portable spa, and lay the cover on top of the spa. Attach the inflation hose to the control unit and then to the inflation inlet on the lid. You should now fully inflate the lid by pressing the massage button on the control unit, which also doubles up as the inflator.
When the lid is inflated, detach the inflator hose from the control unit and the lid, and place the lid nearby on the floor. Now attach the control unit to the three connector hoses on the spa, making sure the connectors are fully tightened.
Filling The Spa With Water
You should now fill the hot tub with water, using a garden hose. It will take up to an hour to fill the spa, depending on the force of your water supply.
When the hot tub is filled with water, place the cover back on top and lock it into place using the lockable straps.
Now turn on the water heater.  It will take up to 24 hours to fully heat the water, which warms up at the standard rate of 2F per hour. To give the water a head start, and to cut down on the time it takes to reach the maximum temperature of 104F, you can add some hot water from your faucet.
Relaxing In Your Canadian Spa Swift Current Portable Spa
Once the water is at your desired temperature, slip off the cover and slide into the water. The control unit is right next to the spa, so once you are in, you can control the massage system from the comfort of the water.
One other feature that many owners really appreciate about this hot tub is that the filtration system is in the heaters unit and not on the inside of the hot tub. In several inflatable models, the filter system sticks out of the inside wall of the hot tub, and you have to avoid it. This can make it seem a bit clunky – something the Canadian Spa Swift doesn't have!
Who Should Buy The Canadian Spa Swift Current Portable Spa?
People who want to invest in a deluxe portable spa

People who want an extra-deep spa that will comfortably seat up to 5 people

People who want to use their hot tub all year round

People who don't have the space required to site a 4-5 person inflatable hot tub

People who want lower running and heating costs
Don't Buy It
If you want a plug-and-play inflatable hot tub that you set up in minutes

If you want a Budget model inflatable hot tub
Where To Buy It
Our recommendation is to buy such a major item from Amazon.com. It offers some great deals and it is a very safe site. You'll find that there are usually deals which include free delivery to your door – something we always appreciate with such a heavy item. To see the latest price on Amazon, click on this link. Thanks for reading. We hope you enjoy your inflatable hot tub!
28 votes
All images © Canadian Spa Company.