Are you looking for a stylish inflatable hot tub that is large enough for 4 adults? A top quality hot tub that doesn't break the bank? Then you might want to check out the Saluspa Helsinki Air Jet Inflatable Hot Tub.
The Helsinki's slender but super-rigid walls makes it the largest inflatable hot tub currently on the market. And yet it takes up the same floor space as other inflatable hot tubs that can only fit 2 adults. Add in the great-looking wood-style design, and you have a serious option to consider when you're looking for your new portable spa.
To see what other owners are saying about the Helsinki, or to check out the current price, you can head over to Amazon by following this link.
The Helsinki is 71 inches across and 26 inches deep. That's the same size as many other hot tubs in this price range; however, those slim yet sturdy walls means the inner space is much larger. That's why it's a 4-person model rather than the 2 people you can usually fit in a spa of this size.
If you're after a hot tub that is perfect for a family, for parties or friends, or just a large spa you can relax in on your own, then this could be the one for you.
Saluspa Helsinki – What You Get In The Box
Saluspa Helsinki Inflatable Hot Tub

87 air jet bubble massage system

Rapid heating system up to 104F

Insulated inflatable cover

Integral water softener

 Electric inflation system

 Digitally controlled water heater and massage system

Energy-saving timer

Year-round Freeze Shield Protection

Hand pump

Instruction DVD

So that you can see all the features you get with this model, including the technical specifications, we have created the table below. We also include three other similarly-priced models so you can compare them for your convenience. We hope it helps you make the right choice!
Saluspa Helsinki Features & Comparisons
Saluspa Helsinki
Lay-Z Spa Miami
Intex 77inch
SaluSpa Havana
External dimensions
71in diameter x 26in deep
71in diameter x 26in deep
77in diameter x 28in deep
71in diameter x 26in deep
Internal dimensions
67in diameter x 26in deep
51in diameter x 26in deep
57in diameter x 28in deep
51in diameter x 26in deep
Capacity
(stretched out)
4 adults
2 adults
2 adults
2 adults
No. of air jets
87
81
120
60
Water capacity (80%)
297 gallons
211 gallons
210 gallons
177 gallons
Filled weight
2,548lbs
2,261lbs
1,835lbs
1,534lbs
Set up time
15 minutes
15 minutes
20 minutes
20 minutes
Electrical outlet
110-120V
110-120V
110-120V
110-120V
Heating to 104F
24 hours
24 hours
20 hours
24 hours
Shipping weight
86lbs
68lbs
67lbs
73lbs
Saluspa Helsinki
Lay-Z Spa Miami
Intex 77inch
Lay-Z Spa Paris
Features
Inflatable hot tub
Wood print design
87 air bubble jets
Digital heater
Integral water softener
Insulated inflatable lid
Energy-saving timer
Freeze Shield Protection
Grounding-fault detector
2 filter cartridges
1 chemical floater
Owner's DVD
Repair kit
Inflatable hot tub
81 air bubble jets
Digital heater
Insulated inflatable lid
Insulated ground mat
2 filter cartridges
1 chemical floater
Owner's DVD
Repair kit
Inflatable hot tub
120 air bubble jets
Digital heater
Insulated lockable lid
Hard water treatment
Side grab handles
Insulated ground mat
2 filter cartridges
1 chemical floater
Owner's DVD
Carry bag
Inflatable hot tub
Rattan wicker print
60 air bubble jets
Digital heater
Cushioned floor
Cover
Energy saving timer
Side grab handles
2 filter cartridges
1 chemical floater
Tech specs
Heater – 2000W
Air Blower – 800W
Filter Pump – 12V/50W
Water flow - 350 gal/hour
Heater – 2000W
Air Blower – 800W
Filter Pump – 12V/50W
Water flow - 350 gal/hour
Heater – 1300W
Air Blower – 800W
Filter Pump – 12V/50W
Water flow - 460 gal/hour
Heater – 2000W
Air Blower – 800W
Filter Pump – 12V/50W
Water flow - 350 gal/hour
Best price on Amazon
Check it out
Check it out
Check it out
Check it out
Background Information
The Helsinki is made by the Bestway Corporation. They are a U.S. company with a reputation for advanced research and innovative designs, which leads to top quality and reliable hot tubs and accessories.
The Helsinki Inflatable Hot Tub measures 71 inches in diameter and 26 inches deep. As we mentioned, this is the same size as many other, earlier hot tubs. But because the Helsinki's walls are of an ultra-strong construction, they are only 2 inches thick. This means the inner space of the hot tub is 67 inches. If you check out the table above, you can see this means the Helsinki offers an extra 10 to 16 inches of internal space than same-size models, such as the best-selling Lay-Z Spa Miami.
That might not sound much, but those extra inches mean you can comfortably fit 4 adults into the Helsinki – or, if you prefer, with 1 or 2 people the extra space gives you a much more relaxing and stretched-out hot tub experience.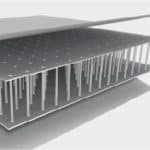 So how does the Helsinki provide so much more space? Well, the answer is in the new dropstitch construction of the hot tub's walls. This makes the walls super-strong and rigid, yet means the hot tub is still light and portable.
It also means that you can sit on the sides of the spa without the walls buckling or creasing. This makes the Saluspa Helsinki a great choice for anyone who is a little unsteady on their feet, and needs the confidence given by such a sturdy inflatable hot tub.
Air Jet Massage System
The Saluspa Helsinki has 87 air jets, which send thousands of bubbles streaming through the water. These bubbles massage and soothe your tired muscles – as well as providing great fun for any children (or adults who are young-at-heart!).
Some people who have never tried a portable hot tub before are concerned that the massage system might be of poor quality. You can see in the picture below, however, that the Helsinki has a powerful system that provides a good all-over massage. Others might be concerned that the bubble system makes too much noise, which might disturb their neighbors or ruin the quiet of a relaxing soak.
However, as other owners have noted in their reviews, the system is not too loud, and allows you to relax without being disturbed.
If you are looking to buy an inflatable hot tub for hydrotherapy purposes, where 1 or 2 people can exercise and receive a great all-body massage, then the Helsinki is definitely worth checking out.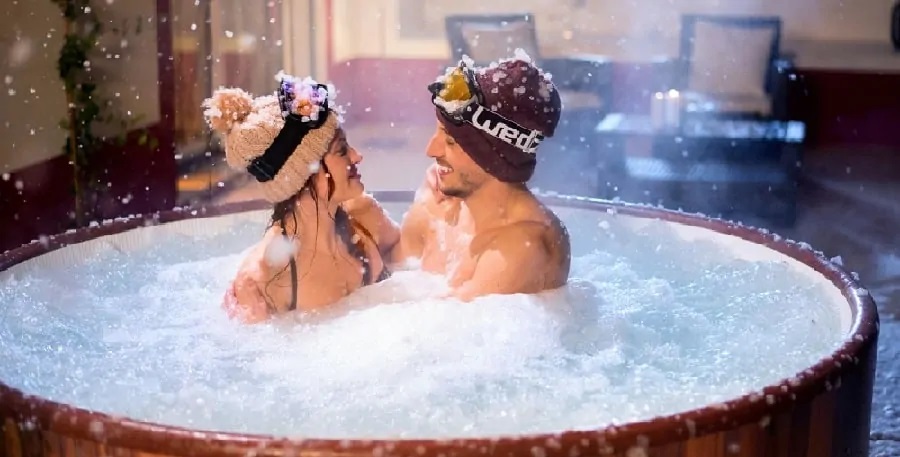 Freeze Shield Protection
One of the questions we get asked a lot is: Can I use my inflatable hot tub all year round? First off, we have a special article about this very topic, which you can read by clicking here. But you'll be glad to know that unlike 99% of other portable hot tubs, with the Helsinki the answer is Yes!
That's because of its special Freeze Shield Protection. This was developed by Bestway, and gives you the option to set the hot tub's pump to run at a low temperature in a power-saving mode for long periods of time. This ensures the water doesn't freeze. Add in the ultra-protection of the triple-ply skin exterior walls, along with the special insulated cover, and you can enjoy your hot tub even in the cold winter months.
How To Set Up Your Helsinki Hot Tub
It will take you about 20 minutes to set up your hot tub. That is if you have set up an inflatable hot tub before! If you are new to the world of inflatable hot tubs, however, then you will want to set it up slowly, taking your time at every stage. Even then, it will take you about half an hour from opening the box to having your new hot tub fully inflated and in place.
To start off, decide where you are going to site your hot tub, making sure the ground is as level as possible and definitely free of any sharp objects.

Then lay out the hot tub and attach the pump unit, which inflates the hot tub. This will take around 5 minutes.
There are useful grab handles on the sides of the Helsinki, which you can use to maneuver your hot tub into the perfect position once it's inflated. Remember to leave a couple of feet all around the hot tub if possible. This makes it easier to clean the hot tub at a later date, and it makes it easier to put on the cover and take it off.
When your hot tub is in place, you can use an ordinary garden hose to fill it, but only up to the fill-line which you can see clearly marked on the inside wall. That's because you need to allow room in the hot tub for the water to rise when people get in.
WARNING! Once it's filled with water, the Helsinki holds 297 gallons of water and weighs over 2,500 lbs. So if you are thinking of siting your hot tub on a deck, make sure the deck can take this kind of weight (remember to add-in the weight of the people who are going to use the hot tub as well).

Plan on it taking around 24 hours for the water to heat up to the maximum temperature of 104F, although this does depend on the temperature of the water you use and the surrounding air temperature.  
TOP TIP: You might do what some other owners find useful, and that is to fill your hot tub with warm or hot water from your faucet. This gives it a boost and speeds up the heating process. 

Once the water in your Helsinki heats up, it is extremely easy to maintain at your chosen temperature. This is helped greatly by using the inflatable lid which comes with the tub as well as the top cover.

It's important you remember to put this cover on your hot tub every time after you have finished in the spa, to keep the water hot and to keep it clean. There are several different things you can do to keep the water clean in your spa; in fact we have an written article which you might find useful and which you can read here: How To Keep The Water Clean In Your Inflatable Hot Tub.
Enjoying Your Helsinki Inflatable Hot Tub
As soon as you're ready to use your Helsinki, turn on the AirJets and remove the cover and lid. Then ease in and simply relax. In fact, there's no need to get out for anything.  Everything you need to fully enjoy your spa experience is right there at hand.
That's because the Digital Control Panel allows you to set the water temperature to the exact heat you want, and it gives you full control over the Air Jet massage system. You'll find that as you use your hot tub, the temperature of the water dips a little. That is completely normal, and all you need to do is press the digital control to give the temperature a boost for a few minutes.

Once you have enjoyed owning your hot tub for a while, you might decide it's time to purchase some accessories to make the experience even more enjoyable. We find that many people choose to add-in some underwater lights (#ad) for when they use the hot tub at night. You may also want to add a drink tray or even a floating Bluetooth speaker. 

Once you have finished in your hot tub, get into that all-important habit of immediately replacing the lid and cover the moment you get out. WE can't stress gthis enough,m as it really does help keep the water clean and maintain the water temperature.

The Best Place To Buy The Helsinki Hot Tub
We normally highlight any negative areas of the hot tubs we review. However, you'll see that we haven't included any in this article. That's because we truly cannot find anything wrong with this fantastic hot tub. It really is that good. No wonder that it quickly became the #1 Best-Selling inflatable hot tub on Amazon shortly after it hit the market.
If you are looking for a great hot tub, it really is worth checking out the Helsinki, especially as there are some great deals to be had.
We always suggest buying your inflatable hot tub from Amazon.com. They are a secure company to buy big items like this from, and they also offer free shipping. This is a good bonus, and it also means you don't have to haul such a heavy item home form the store. To check out the latest deal you can head over to Amazon by clicking on this link . We hope you have loads of fun with the Helsinki. Thanks for reading!