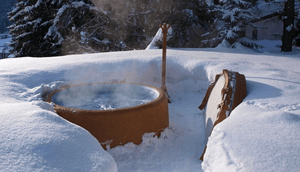 Are you looking for 4 season inflatable hot tubs? Then following this guide will help you find the best hot tub you can use outdoors in the coldest temperatures, and it will also help save you money.
You see, only a handful of portable hot tubs are tough enough to survive outdoors in winter. Therefore, making the right choice really does matter.
This guide will walk you through what you should look for in a 4 season inflatable hot tub, as well as showing you the top 10 best winter inflatable hot tubs currently on the market.
Unlike other reviews online, ours features a mixture of advice, tips and tricks, first-hand reviews, as well as aggregated reviews from across the web, to give you everything you need to know in one place. We found the portable hot tubs you can use in the coldest winters, straight out the box, and those which need a little insulation for maximum efficiency. Read on my friend.
The Best Winter Inflatable Hot Tubs
Note: The links above take you to more information, current prices and customer reviews on Amazon. If you do purchase something we get a small commission, which has absolutely no effect on the eventual price that you pay.
Background Info
Looking at the table above, you might be wondering where the hot tubs are from the big companies like Intex and Coleman. Well, they make some fantastic hot tubs – but almost all of their models are for use in the summer, or 3 seasons at most, and definitely not for winter. In fact those companies state quite clearly on their owners instructions and sales sites that their hot tubs are not meant to be used in temperatures below 40F.
The only exception, of course, is the Saluspa Helsinki, which is the first hot tub made by the Bestway Corporation especially for use all year-round.
So if you've got your heart set on a hot tub which isn't listed, to use in the coldest of winters, I'm afraid you are going to have to rethink the model you're going to buy.
If you did choose a portable hot tub that isn't on the table above, you are going to be disappointed. And it could end up costing you a fair amount of money, especially if the cold weather ends up destroying your hot tub.
Therefore, we strongly recommend following our advice on this one!
So what makes one inflatable hot tub great for cold weather while another needs to be drained, dismantled, and packed away?
Well, the answer to that question comes in three parts:
the construction of the hot tub
the hot tub motor and heater
things you can do to help
The Construction of the Winter Inflatable Hot Tub
The majority of inflatable hot tubs are made of a triple layer of PVC. Along with their internal construction, this extra-thick vinyl layer helps make them strong enough to hold the weight of hundreds of gallons of hot, bubbling water without giving way. It also makes them sturdy enough to support fully grown adults as they get in and out of the hot tub, and even support them if they sit on the sides. But that's still not tough enough to survive cold or freezing temperatures!
For that, you need a much thicker skin, and that's where the hot tubs we suggest come into their own.
Working our way up the table from bottom to top, let's look briefly at the construction of those 10 portable spas.
First off, each of the six MSpa hot tubs has 6 layers of laminated PVC, which the company calls Rhino-Tech™. This is a material that has been developed for the tough demands of the marine industry. It's UV resistant, strong enough to withstand rips and abrasions, and – most importantly for us – it's frost resistant and suitable for use in all weather climates.
Moving up our rankings, the Canadian Spa Rio Grande has a double insulated wall, a reinforced vinyl skin, and it comes with a padded thermal base and a 6 inch thick inflatable insulated cover. The Canadian Spa Swift, meanwhile, has 5 inch thick foam walls, a reinforced vinyl skin, and it also has a 6 inch thick insulated cover.
The Saluspa Helsinki, has triple-ply reinforced walls of what Bestway call a dropstitch construction. This allows for the walls to remain rigid when inflated as well as offering cold weather protection. The Helsinki also comes with an inflatable insulated cover. It also has Freeze Shield Protection, a timer you can set to keep the water heating up when you choose, to prevent it freezing in the hot tub and in the motor.
Finally, the Spa-N-A-Box, which sits on top of our table in the #1 spot, has 8 insulated wood-style panels, 2 inch thick vacuum-sealed insulation, insulated heat mat, insulated flooring, insulated spa cover, and a thermal lid.
So as you can see, the top four hot tubs are built specifically to withstand even the coldest temperature – that's the claim and the guarantee on their websites. Meanwhile, the MSpa hot tubs are built to survive all weathers – however, you are going to need a few dollars of insulation to keep them working at 100% efficiency throughout the coldest months (more about that shortly).
The Inflatable Hot Tub Motor and Heater
In order for your hot tub to be able to work in freezing and sub-freezing temperatures, it's vital that the heater and the motor that operates the air jets will both run at the same time.
The key here is that the water must flow continuously through the motor system at all times and remain hot. If it doesn't, then as soon as the water settles in the pump, or the water starts to cool too much, it will freeze.
So if the heater has to turn off, to let the air jets work, then the water will freeze in the heater, and will end up breaking the motor when you turn the heater back on.
Therefore, keeping the water – and the heater – hot at all times is key to using your hot tub in severe temperatures.
In most models that are designed for summer, when you turn on the air jets the heater system turns off. That's the danger time, when the water can freeze, and why you should never use one of those models below 40F.
It's also vital that the water heater can be run continuously without cutting out. In this way, the heater will maintain its own heat as it does the work, stopping it from freezing up and being destroyed.
Unfortunately, the inflatable hot tubs that don't make our table all have automatic cut outs which turn off the heater. That's another reason why you mustn't use them outdoors in winter.
Things You Can Do To Help
If you go ahead and choose one of the top four portable hot tubs on our table, then you are good to go in any weather, straight out of the box.
If you decide to go for one of the MSpa hot tubs, however, you will need to purchase some insulating foam to help the hot tub work efficiently.
Inflatable Hot Tub Insulation for Winter
As we saw, the construction of the MSpa hot tubs is easily strong enough to survive the coldest of winters. Where they need a little of your help is with some insulation under the hot tub, to prevent too much heat loss through the cold ground. It's also a good idea to wrap the motor unit in some insulation as well.
We suggest you get hold of some 1-inch thick Styrofoam Project Panels from Amazon, and put them under your portable hot tub. By placing them together, you can easily lay out a square base for your hot tub to sit on.
If you prefer, and you are handy with a knife or saw, you can tape the boards together and cut out a circle the same size as your portable hot tub for a perfect-fit base. You can then cover this base with your hot tub insulated ground mat, to cover up the edges of the foam to keep it visually appealing.
Either way, this simple addition to your MSpa will help improve heat retention and will save money on running costs.
You can also use the foam sheets to make a simple box to go around the hot tub heater unit (don't forget to include some foam as a base for the box as well). This simple construction will help keep the motor at a consistent temperature and keep it working throughout the winter.
Depending on how handy you are, you can either tape the parts together or make a simple wooden frame that holds the insulation board in place.
Inflatable Hot Tub Surround
Finally – and this is true for all of the portable hot tubs on our table – think about the surround of your hot tub. We all know what wind chill can do to the severity of winter, so if you plan on using your inflatable hot tub in the winter, think about a windbreak around your hot tub. This could be a simple screen, a basic home-built surround, or even a special outdoor building.
Preventing the wind from directly blowing onto and across your hot tub will keep it safe, reduce the effect of the wind and the subsequent drop in temperature it brings. It will keep the water hotter, the heating costs down, and means your heater motor won't have to work extra-hard at maintaining that temperature of 104F!
The Features of the 4 Season Inflatable Hot Tubs
Which inflatable hot tub you choose to buy will come down to personal choice. But to help you make your decision, let's look at the features of the hot tubs which you need to take into consideration. These are:
size of the hot tub
how many people can comfortably fit in the hot tub
set up time
heating time
filled weight
massage system
accessories and extras included in the price
Inflatable Hot Tub Size and Capacity
You'll need to think about how many people will regularly use your inflatable hot tub spa, as this will determine the size of hot tub you need.
A word of warning though. As we mentioned, don't be misled by how many people the hot tub company says will fit in their hot tub. That's because they are talking about the number of people who can sit in the tub, all close together.
That's why you'll see a difference in the number of people we say can fit in a hot tub. We give the capacity for how many adults can lie in the tub, stretched out with their shoulders covered by the hot water. We believe this is what most people think of when they envisage being in a hot tub – and how most people actually use their spa!
When you look at the dimensions of any inflatable hot tub, there are three measurements you need to think about:
the outer dimensions
the inner dimensions
the space you need to site your hot tub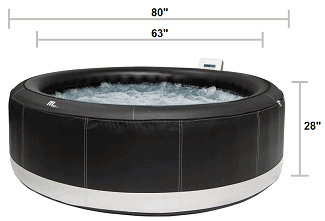 When you look at details of any inflatable spa on websites such as Amazon, you'll see that they give the outer dimensions of the hot tub. You might think that the bigger the hot tub, the more people can fit inside. But this is not necessarily the case!
That's because it's the inner dimensions that determine how many people can fit in a hot tub. And that depends on the thickness of the hot tub walls and the depth of the hot tub. So the MSpa Camaro, which measures 71 inches across, has 8-inch thick walls. This gives it an inner dimension of 55 inches, making it suitable for 2 adults. Compare this to the Spa-N-A-Box, which measures 73½ inches across, but it has insulated foam walls that are a little over 4 inches thick. This means it has an inner dimension of 64½ inches, so you can easily fit 3-4 adults inside.
You'll see that the biggest inflatable hot tub, in terms of inner space, is in fact the Saluspa Helsinki. Even though it measures only 71 inches across – the same size as a 2-person hot tub – its ultra-rigid wall is only 2 inches thick. This means the Helsinki has an inner space of 67 inches. This makes it the roomiest of our 4 season hot tubs.
At the same time, it's important to think of the depth of the hot tub. Many inflatable hot tubs are 26 inches deep, while some are 28 inches. Those extra couple of inches might not seem much, but it means you don't have to stretch out quite as far in order to have the water cover your shoulders (you're really going to want to do this in the winter!). Therefore, a hot tub which is 28 inches deep can be a little shorter internally than one measuring 26 inches, as you don't have to stretch out so far.
Also, square inflatable hot tubs, such as the MSpa Premium Soho and the MSpa Lite Alpine, have more internal floor space than a round hot tub of the same size. That's because of the corners, which give extra room.
As you'll see on the table below, we also give the recommended space you need to site your inflatable hot tub. It's best if you can leave a couple of feet all around your hot tub. This is so that you can access the hot tub for cleaning, to carry out any maintenance, and so that you can easily fit the cover.
You can place your hot tub close to wall on one side or even tuck it into a corner. Just make sure it's not rubbing against any surface, as this will cause the hot tub wall to weaken, and then crack or even puncture. If you do place your hot tub close to a wall, remember this will limit your access to all parts of the hot tub, which means you will sometimes have to stretch around and across to carry out basic maintenance and upkeep chores. Also, if you do need to access the sides for more serious work, you'll have to drain the hot tub before you can move it.
Here then are the measurements you need to know for all ten of the 4 season inflatable hot tubs.
Model
External dimensions
Internal dimensions
Capacity
Space to site the hot tub
Spa-N-A-Box
73½ inches diameter
27 inches deep
64½ inches diameter
27 inches deep
3-4 adults
10 feet x 10 feet
Canadian Spa Swift
72 inches diameter
29 inches deep
63 inches diameter
29 inches deep
4 adults
10 feet x 10 feet
Saluspa Helsinki
71 inches diameter
26 inches deep
67 inches diameter
26 inches deep
4 adults
10 feet x 10 feet
Canadian Spa Rio Grande
70 inches diameter
29 inches deep
55 inches diameter
29 inches deep
2 adults
10 feet x 10 feet
MSpa Premium Soho
73 inches x 73 inches
27 inches deep
57 inches x 57 inches
27 inches deep
3-4 adults
10 feet x 10 feet
MSpa Elite Jet Reve
71 inches diameter
28 inches deep
55 inches diameter
28 inches deep
2 adults
10 feet x 10 feet
MSpa Luxury Exotic
71 inches diameter
28 inches deep
55 inches diameter
28 inches deep
2 adults
10 feet x 10 feet
MSpa Super Camaro
80 inches diameter
28 inches deep
63 inches diameter
28 inches deep
4 adults
10½ feet x 10½ feet
MSpa Lite Alpine
62 inches x 62 inches
27 inches deep
46½ inches x 46½ inches
27 inches deep
2-3 adults
9 feet x 9 feet
MSpa Camaro
71 inches diameter
28 inches deep
55 inches diameter
28 inches deep
2 adults
10 feet x 10 feet
Setting Up and Heating Times for Your Portable Hot Tub
New owners sometimes worry about how difficult it is to set up an inflatable hot tub. But it's actually much easier than you might think. You don't need any special knowledge or special tools. That's because inflatable hot tubs are what is called plug-and-play spas. This means it's a pretty much a matter of laying the hot tub out, attaching the motor to the hot tub and inflating it. You then fill it with water, put the lid on and the same motor unit heats the water up to a maximum temperature of 104F.
The only exceptions to the set up times of the ten hot tubs we are looking at here are the Spa-N-A-Box and the Canadian Spa Swift. That's because they have foam walls  which you have to set up. To see how to do this, we have two videos at the bottom of this page.
Generally, for the inflatable hot tubs, from when you take your hot tub out of its box to when you have it inflated, with everything connected, and ready to be filled with water, should take about 10-20 minutes.
To be honest, though, that's how long it takes when you know what you're doing. The very first time you set up your new blow up hot tub, you should plan on it taking about an hour.
We do recommend reading the instructions thoroughly before you start to set up your hot tub.
Water Heating Times
When you have your hot tub set up, it should take about an hour to fill it with water, although this depends on the strength of the water supply from your faucet.
It also depends on the temperature of the water, the air temperature, and how hot you want the water to heat up to. Even if the air temperature is 50F, the water temperature is 50F, and you set the temperature control to heat the water up to the industry maximum of 104F, it will take about 32 hours for the water to reach that temperature. That's because on average, portable hot tubs heat the water at 3F per hour.
So if you are heating the water on a day when the air temperature is freezing or below, it could take 2-3 days to heat up to 104F!
That's why we recommend filling your spa with hot water directly from your house supply. Although this will have an initial cost, it will end up saving you money and time.
Inflatable Hot Tub Water Capacity and Filled Weight
When we talk about the water capacity of a portable hot tub, we are talking about the hot tub filled up to 80% of its maximum capacity. This is to leave room for the water level to rise when you get in the hot tub. It also leaves enough space for the water to bubble away when you switch on the massage system without it spilling onto the floor.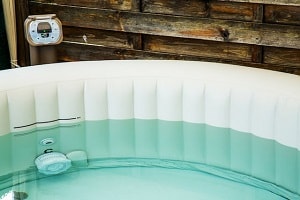 On the inner wall of the hot tub, you'll see a minimum-fill line and a maximum-fill line. We strongly recommend that you never fill your hot tub above the maximum line. In fact, the first time you fill your hot tub, we suggest you fill it to the minimum line. Then, when you start using your hot tub, you'll learn if that is a good level for you or if the extra couple of inches are better.
Once your hot tub is filled with water, you might be surprised to see how much it weighs. A gallon of water weighs just over 8lbs, so even the smallest 4 season inflatable hot tub – the MSpa Lite Alpine – holds 171 gallons. This means it weighs almost 1,500lbs when filled with water. Add in the weight of, say, 2 adults, and it can weigh almost 2,000lbs. That's about the same weight as a bison!
Realizing just how heavy the filled weight of your hot tub is, can be important if you plan on putting your hot tub on a deck or even indoors. You have to make sure the flooring can take that much weight. In fact, if you look over at the reviews on Amazon, you'll see that some inflatable hot tub owners use car jacks under their deck to support the weight and make sure the decking doesn't collapse.
Knowing just how heavy a hot tub is when filled also makes you realize that it is impossible to move. That's why we strongly suggest you leave enough space all around the hot tub for access.
Here then are the details of the water capacity and filled weight of each of the 4 season inflatable hot tubs we recommend:
Model
Water capacity
(80% full)
Weight
(hot tub + weight of the water)
Spa-N-A-Box
280 gallons
2,569 lbs
Canadian Spa Swift
333 gallons
2,833 lbs
Saluspa Helsinki
297 gallons
2,548 lbs
Canadian Spa Rio Grande
210 gallons
1,793 lbs
MSpa Premium Soho
245 gallons
2,108 lbs
MSpa Elite Jet Reve
184 gallons
1,608 lbs
MSpa Luxury Exotic
184 gallons
1,605 lbs
MSpa Super Camaro
245 gallons
2,122 lbs
MSpa Lite Alpine
171 gallons
1,469 lbs
MSpa Camaro
184 gallons
1,597 lbs
Massage System
The massage system in each of the 4 season inflatable hot tubs is powerful, thanks to constant developments in technology. If you read some of the reviews on sites such as Amazon, you'll see that new inflatable hot tub owners are surprised and delighted at just how good the massage system is in their new purchase.
The strength of the massage system relies on two features: how many air jets the hot tub has, and the power of the water flowing through the air jets.
In all inflatable hot tubs, the air jet system is a series of holes around the bottom of the inside of the hot tub. When you turn on the massage system, air blows through these holes, creating streams of bubbles to give you a full body massage. The only exception to this is with the MSpa Elite Jet Reve, which also has 4 adjustable hydro massage jets, like you get in traditional rigid hot tubs.
The power of the massage system depends in part on the number of air jets, but also depends on strength of the water pressure that pumps out through the holes.
Keep in mind that having more air jets doesn't always mean you'll have a better massage system. It also needs to be backed up with a powerful water flow.
Winter Inflatable Hot Tub Massage Systems Compared
No. of bubble jets
Water flow
(gallons per hour)
Our Massage Rating
Spa-N-A-Box
127
420
10/10
Canadian Spa Swift
88 + 4 hydro massage seats
400
10/10
Saluspa Helsinki
87
350
8/10
Canadian Spa Rio Grande
88
360
9/10
MSpa Premium Soho
132
350
8/10
MSpa Elite Jet Reve
118 + 4 hydro jets
420
10/10
MSpa Luxury Exotic
118
400
9.5/10
MSpa Super Camaro
138
400
9/10
MSpa Lite Alpine
132
320
8/10
MSpa Camaro
110
380
9/10
Accessories and Extras
Every one of the 4 season inflatable hot tubs comes with a range of quality accessories included in the price. In fact no matter which hot tub you decide to buy, check you are getting a great deal, with at least $100 of accessories included in the package.
As an absolute minimum, your hot tub should come with:
a digital control panel
an insulated cover
an insulated ground mat
a chemical float
a spare filter cartridge (or two)
repair patches

Keeping this in mind, we have put together a table which shows all the accessories you get with each model:
4 Season Inflatable Hot Tubs - Your Quick Guide To The Accessories Included In The Price
| | | | | | | | | | | |
| --- | --- | --- | --- | --- | --- | --- | --- | --- | --- | --- |
| | Spa-N-A-Box | Canadian Spa Swift | Saluspa Helsinki | Canadian Spa Rio Grande | MSpa Premium Soho | MSpa Elite jet Reve | MSpa Luxury Exotic | MSpa Super Camaro | MSpa Lite Alpine | MSpa Camaro |
| Digital control | ✓ | ✓ | ✓ | ✓ | ✓ | ✓ | ✓ | ✓ | ✓ | ✓ |
| Insulated lid or cover | ✓ | ✓ | ✓ | ✓ | ✓ | ✓ | ✓ | ✓ | ✓ | ✓ |
| Super-strong exterior | ✓ | ✓ | ✓ | ✓ | ✓ | ✓ | ✓ | ✓ | ✓ | ✓ |
| Insulated base | ✓ | ✓ | ✓ | ✓ | | | | | | |
| Insulated ground mat | ✓ | ✓ | | ✓ | ✓ | ✓ | ✓ | ✓ | ✓ | ✓ |
| Extra-strong massage system | ✓ | ✓ | | | | ✓ | | | | |
| Built-in seats | | ✓ | | | | ✓ | ✓ | ✓ | | ✓ |
| Spare filter cartridge | ✓ | ✓ | ✓ | ✓ | ✓ | ✓ | ✓ | ✓ | ✓ | v |
| Chemical floater | ✓ | ✓ | ✓ | ✓ | ✓ | ✓ | ✓ | ✓ | ✓ | ✓ |
| Instruction DVD | ✓ | ✓ | ✓ | ✓ | ✓ | ✓ | ✓ | ✓ | ✓ | ✓ |
| Repair patches | ✓ | ✓ | ✓ | ✓ | ✓ | ✓ | ✓ | ✓ | ✓ | ✓ |
| Best Amazon Deal | See it | See it | See it | See it | See it | See it | See it | See it | See it | See it |
Conclusion
We hope this guide has helped you understand what is required when you are looking for 4 season inflatable hot tubs. We also hope it helps you choose the hot tub that is right for you. Thanks for reading!