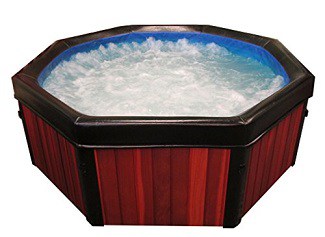 The Spa-N-A-Box takes the idea of a portable spa to a whole new level. It's a cross between a traditional rigid hot tub and an inflatable hot tub that is, in our opinion, brilliant. It's a luxury model that is built to last for years and it's one of the ultimate hot tubs you can buy.
It consists of 8 insulated wood-style panels which you join together to make a free-standing octagonal hot tub shell that sits on the ground. Then you place the inflatable hot tub inside the hexagon, fix it into place, and inflate it. In around 20 minutes set-up time, you have a sturdy spa that can seat up to 6 adults in relative comfort – although in our opinion it's much better to see it as an awesome 3-4 person hot tub. 
By the way – the panels are reversible, so you can choose your spa to be red-cherry wood or dark walnut! The image on the left shows the red-cherry version.
The Spa-N-A-Box is also one of only a few portable spas that are purpose-built to be used all year-round, even in sub-zero temperatures. So if you are looking for a 4 season inflatable hot tub that is designed to work in the coldest winters, then this could be the spa for you. To check out what other owners think of the Spa-N-A-Box, or just to see the current deals, you can head over to Amazon by following this Spa-N-A-Box direct link.
What's Included in the Price?
Spa-N-A-Box portable hot tub

Turbo Wave massage system with 127 bubble jets

8 reversible wood-style rigid panels

Panels have 2-inch vacuum sealed insulation

Cushioned flooring

Thermostatically-controlled water heater with freeze protection

Digital control panel for the water heater and the massage jets

Insulated heat mat

Extra-large filter for increased efficiency

Inflatable spa cover to keep in the heat

Thermal lid with locking straps

Owner's manual
So that you can see all the features, accessories and technical specifications of the Spa-N-A-Box, and to compare it to similar models, we have put together a table to help you make a great choice.
Spa-N-A-Box Features & Comparisons
Spa-N-A-Box
Canadian Spa Swift
MSpa Luxury Exotic
Intex PureSpa Jet Massage
External dimensions
73.5in diameter x 27in deep
72in diameter x 29in deep
80in diameter x 28in deep
75in diameter x 28 inches
Internal dimensions
64.5in diameter x 27in deep
63in diameter x 29in deep
63in diameter x 28in deep
58in diameter x 28 inches
Capacity
(stretched out)
3-4 adults
4-5 adults
4 adults
3 adults
No. of air jets
127 + Turbo Wave massage feature
88 + 6 Hydro Massage seats
8 hydromassage jets
4 hydromassage jets
Water capacity (80%)
280 gallons
333 gallons
320 gallons
210 gallons
Filled weight
2,569lbs
2,833lbs
2,781lbs
1,892lbs
Set up time
20 minutes
45 minutes
40 minutes
30 minutes
Electrical outlet
110-120V
110-120V
110-120V
110-120V
Heating to 104F
24 hours
24 hours
24 hours
24 hours
Shipping weight
91lbs
70lbs
151lbs
152lbs
Spa-N-A-Box
Canadian Spa Swift
MSpa Luxury Exotic
Intex PureSpa Jet Massage
Features
Spa-N-A-Box hot tub
Reversible wood-style panels
2" thick vacuum-sealed insulated walls
127 air bubble jets
Turbo wave massage system
Digital panel
Inflatable lid
Insulated lockable cover
Protective ground mat
Inflation hose
Spare filter cartridge
Easy drain system
Owners DVD & manual
Portable hot tub
8 x 5in foam padded walls
6 hydro massage seats
88 air bubble jets
Digital control panel
Lockable insulated and inflatable lid
Insulated foam base
Floating thermal blanket
Inflation hose
2 spare filter cartridges
Chemical float
Owners manual
Inflatable hot tub
8 hydromassage jets
Adjustable massage control
Leatherette crocodile pattern skin
Super-strong 6-layer PVC construction
Whisper-quiet motor
External heater
Touch button controls and remote control box
Lockable insulated cover
Inflatable lid
Heat insulator ground mat
Ozone generator
Inflation hose
Air pressure gauge
Garden hose adaptor
2 Spare filter cartridges
Owners DVD & manual
Inflatable hot tub
4 hydromassage jets
Digital control panel
Insulated lockable cover
Heat preservation mat
Hard water treatment system
Chemical float
Inflation hose
Filter cartridge
Repair kit
Owner's manual & DVD
Carry bag
Tech specs
Heater – 1000W
Air Blower – 800W
Filter Pump – 24V/50W
Water flow - 460 gal/hour
Heater – 1940W
Air Blower – 500W
Filter Pump – 12V/60W
Water flow - 460 gal/hour
Heater – 1350W
Air Blower - 800W
Filter Pump – 24V/50W
Water flow - 460 gal/hour
Ozone Generator
Heater – 1300W
Air Blower – 750W
Filter Pump – 12V/50W
Water flow - 460 gal/hour
Best price on Amazon
Check it out here
Check it out
Check it out here
Check it out
Background Info
The Spa-N-A-Box is made by  ComfortLine, who operate out of Florida and have been in business since 1996, making high-quality portable hot tubs and accessories. They really hit the headlines with the Spa-N-A-Box model, however, which was unlike any inflatable hot tub seen before.
One of the many features we really like about this hot tub is that it is made to survive outdoors in the coldest of winters. From the insulated panels through to the motor-and-massage system power pack with in-built freeze control, it is designed to survive freezing temeperatures, and there are owners' testimonies saying how they use it year after year through the freezing winters of Alaska and Canada.
We have written an article on using your portable hot tub outdoors in winter which you might find useful. You can read it here: 4 Season Inflatable Hot Tubs (opens in a new tab).
The great thing about the octagonal shell of panels is that they are strong enough for you to be able to sit on the side of the hot tub without worrying about it collapsing.  This also makes it especially great for those who need assistance getting in and out of the spa.

The rigid surround panels are 2 inches thick, and they are vacuum-sealed to help insulate the hot tub and keep the water hot. Add in the thermal ground mat, the insulated inflatable lid, and the insulated cover, and you'll find the water stays really hot overnight without you having to turn on the water heater the next day.
When you do need to heat the water, the Digital Control panel is on the side of the hot tub. The maximum temperature the heater will heat your water up to is 104F, which is the maximum temperature of all portable hot tubs.

The Digital Control panel also controls the water jet massage system, so there is no need to leave the luxury of the water in order to get the full benefits of your Spa-N-A-Box. The massage system is super-powerful, consisting of a ring of 127 air bubble jets at the bottom of the hot tub, which are powered by ComfortLine's unique Turbo Wave massage system.
Setting up Your Spa-N-A-Box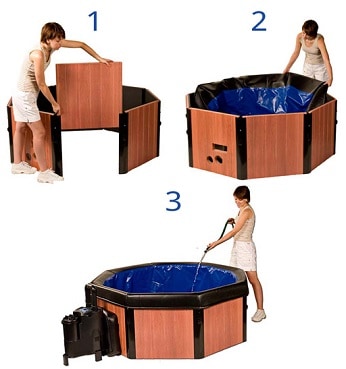 The Spa-N-A-Box comes in two boxes. It is quite easy to set up, and takes around twenty minutes. We strongly suggest you watch the video below before you set up the Spa-N-A-Box for the first time, as this will make it easier and save you time.
When you have the hot tub set up, fill it with water using a garden hose, and turn on the water heater. It takes about 24 hours to heat the water to the maximum of 104F, depending on the water and air temperatures.
Some people who are new to inflatable spas wonder if 104F is hot enough – but we can assure you that it truly is, and that you'll be delighted by how hot and relaxing you'll find it when you get into your hot tub.
While the water is heating up, be sure to put on the inflatable lid and the cover. These add to the insulation and prevent heat from escaping into the air. They also cut down on heating time and save you money.
To jump-start the time it takes to heat the water, you can do what many hot tub owners do, and that's fill their spa with hot water from their faucet.
It is also possible to set up your Spa-N-A-Box indoors, as long as you have a suitable room. For advice on doing this, you might want to check out our FAQs, which opens in a new tab.
Enjoying Your Spa-N-A-Box
Once the water is at your desired temperature, simply slip off the cover and lid, and slide into the warm water. Then turn on the Turbo Massage system and enjoy your all-over massage. With the Digital Control panel on the side of the tub, there's no need to get out of the water.
You absolutely do not need to buy anything else in order to enjoy your Spa-N-A-Box. However, down the line you might decide to add a few extras to enhance your spa experience, such as a floating drinks tray, waterproof Bluetooth speaker, or cushioned headrest.
The beauty of the Spa-N-A-Box – as with all other inflatable hot tubs – is that you do not need to buy your extras from the company that makes your tub. There are a wide range of extras out there and they will fit the hot tub you decide to buy.
One thing you will need to buy, though, is some hot tub chemicals. If you're newbie, or uncertain about this area of owning a portable hot tub, we have a range of useful articles to help you. A good place to start is with our article Everything You Need To Know About Hot Tub Chemicals (link opens in a new tab).
Who Should Buy the Spa-N-A-Box?
Those looking for a portable spa that is unlike other inflatable hot tubs
Those who want to use their hot tub through the winter
Those who need strong support when they get in and out of the hot tub
Those who want a luxury hot tub that's perfect for 2 adults
Those who want a super-powerful massage system that's great for hydrotherapy
Don't Buy It
If you want a budget hot tub
If you want an extra-large hot tub for 4 adults or more
Where To Buy It
Head over to Amazon.com to see the best deals online. They are a very safe site to buy from, which gives us peace of mind when we buy large items. They also have free shipping with their deals, which is great for such a large and bulky item. You can head over to see the latest deals on Amazon by clicking on this link. Thanks for reading!
All images © Comfort Line Products.