Spa-N-A-Box Review
If you're looking for an inflatable hot tub with a difference, then check out the Spa-N-A-Box.
With its rigid wood-like surround, we think it's half-way between an inflatable hot tub and a traditional Scandinavian spa.
The idea behind this hot tub is simple yet brilliant. It consists of 8 insulated wood-style panels which you set join together, and then place the inflatable hot tub inside and inflate it. The panels even come in reversible colors, so you can choose your spa to be red-cherry wood or dark walnut.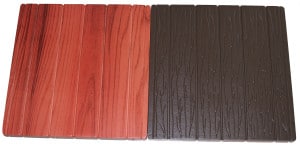 It's also super-easy to set up, and takes only 20 minutes out the box until it's ready to fill up with water.
What's Included in the Price?
Your Spa-N-A-Box

Turbo Wave massage system with 127 bubble jets

Reversible wood-style rigid panels

2 inch vacuum sealed insulation

Cushioned flooring

Thermostatically-controlled water heater with freeze protection

Digital control panel for the water heater and the massage jets

Insulated heat mat

Extra-large filter for increased efficiency

Inflatable spa cover to keep in the heat

Thermal lid with locking straps

Owner's manual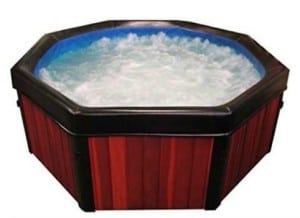 The Spa-N-A-Box is made by Comfort Line, one of the world's leading manufacturers of portable hot tubs. They are known for their innovative and individual designs, and their inflatable hot tubs look like no other models on the market, as the Spa-N-A-Box perfectly shows.

Features of the Spa-N-A-Box
Your Spa-N-A-Box measures 74 inches by 74 inches and is 27 inches tall. This means you can fit in 5 adults at a push, although more realistically it's better for 4 adults who will have lots of room to relax without feeling in any way cramped. Its size makes it great for a family, and still leaves space for several of your children's friends as well.
The great thing about the rigid surround is that the strong support it provides helps make the Spa-N-A-Box deeper than many other inflatable spas. This means the water covers up to your shoulders, and you get more of an all-over body massage from the 127 powerful Turbo Wave air jets.  The rigid panels are also strong enough for you to be able to sit on the side of the hot tub without feat of it collapsing.  That also means it's great for those who need assistance getting in and out of the spa.

The rigid surround panels are 2 inches thick, and they are vacuum-sealed to help insulate the hot tub and keep the water hot. Add in the thermal ground mat, the insulated inflatable lid, and the insulated cover, and you'll find the water stays really hot overnight without you having to turn on the water heater the next day.
When you do need to heat the water, the Digital Control panel is on the side of the hot tub. The maximum temperature the heater will heat your water up to is 105F. Some people find this a little hot, however, and set the control panel to 103F instead.

The Digital Control panel also controls the water jet massage system, so there is no need to leave the luxury of the water in order to get the full benefits of your Spa-N-A-Box.

Setting up Your Spa-N-A-Box

Your Spa-N-A-Box actually comes in two boxes. It is very easy to set up, and takes less than twenty minutes. Then you fill it with water, using a garden hose, and turn on the water heater. It takes between 4 and 12 hours to heat up to the maximum of 105F, depending on the water and air temperature.
It is also possible to set up your Spa-N-A-Box indoors, as long as you have a suitable room.  For advice on doing this, check out our FAQs.
To see how easy it is to set up the Spa-N-A-Box, watch the video at the bottom of this page.
Enjoying Your Spa-N-A-Box
Once the water is at your desired temperature, simply slip into the warm water and, if you want a massage, turn on the Turbo Massage system and enjoy your all-over massage. With the Digital Control panel on the side of the tub, there's no need to get out of the water.
You absolutely do not need to buy anything else in order to enjoy your Spa-N-A-Box. However, you might decide to add a few extras to enhance your spa experience, such as a floating drinks tray, waterproof Bluetooth speaker, or cushioned headrest.
The beauty of the Spa-N-A-Box – as with all other inflatable hot tubs – is that you do not need to buy your extras from the company that makes your tub. There are a wide range of extras out there and they will fit the hot tub you decide to buy.
So there we have it. The Spa-N-A-Box is a great and very different inflatable hot tub that is well-worth checking out. You'll probably discover, as one reviewer put it
"The Spa-N-A-Box is the greatest hot tub for the money you will ever buy."