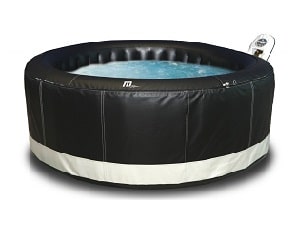 The MSpa Super Camaro is a high-end luxury inflatable hot tub, but is it really worth the money?  Because if you are going to splash out over $1,000 on an inflatable hot tub, you need to know you are getting an awesome product for your investment.
Luckily, the MSpa Super Camaro stands up to every test thrown at it, and deserves its top-end price and the great user reviews it gets.  It really is a great inflatable hot tub.
At 71 inches (180cm) across, it isn't the largest portable hot tub out there – even budget models such as the Lay Z Spa Paris are several inches wider.  But it is still big enough to fit 4 adults in comfortably, and it will easily take a couple of adults and a handful of small active children.  It comes with a host of extras included in the price, such as 6 padded seats, super-quiet motor, and a ceramic stone heating system.
We also like the powerful massage system, made up of 130 air jets, which matches the power of a traditional hard-shell hot tub.

MSpa Super Camaro – What You Get In The Box
MSpa Super Camaro B-150 Inflatable Hot Tub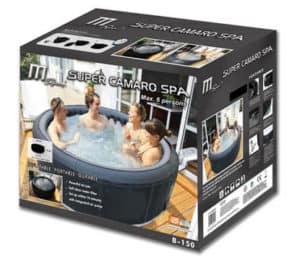 Powerful 138 air jet bubble massage system

 6 padded seats inside the hot tub

 Tear-resistant multi-layer PVC construction

 Built to last in most weathers, including extreme heat and frost

 Digital inflation pump

 High efficiency ceramic stone heating system

 Insulated and padded cover

 Easy drain system for quick emptying

 'Whisper quiet' motor which lets you relax in peace

 Digital lock for when your hot tub is not being used

 Spare filter cartridges

 Instruction DVD and Owner's manual

The MSpa Super Camaro Inflatable Hot Tub measures 71 inches across and 28 inches deep.  The company call it a 6 person tub, and you could fit six people in but it would be a tight squeeze.  It is better to see it as a 4 person round hot tub, or a family hot tub, and you won't be disappointed.
The MSpa company make a wide range of luxury recreational products, including yachts, rigid hot tubs and inflatable ocean-going boats.  They have combined this knowledge, expertise and technology into making the MSpa Super Camaro a luxury inflatable hot tub that is comparable to a number of more costly rigid-shell hot tubs.
It's made of a super-strong 6-ply PVC skin, which is rip-resistant as well as UV and frost-resistant.  This means your MSpa Super Camaro will last for many years, whether you use it indoors or out.  Its strong construction also means 4 adults can sit on the hot tub walls without it giving way, and it will fully support you while you get in and out of the tub.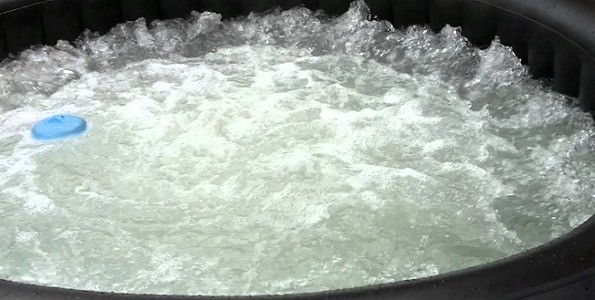 The MSpa Super Camaro has 138 powerful air jets which give a wonderful massage.  It also has MSpa's revolutionary 'Whisper Quiet' motor, keeping the water bubbling without any disturbing or annoying noise.  In fact, the only thing you'll hear when you're having your massage is the sound of the water bubbling around you.
The air jet system and the water heater, which keeps the water at a relaxing 104F, are all controlled by a clip-on digital control panel which sits on the side of the tub.  This means all the controls are at your fingertips.  So once you're in the water, you don't have to get out to make any adjustments.
 Click Here To Read Customer Reviews On Amazon
How To Set Up Your MSpa Super Camaro
As with all MSpa inflatable hot tubs, your Super Camaro is easy to set up.  You unpack it and lay it out on a flat space where you want to locate your hot tub.  Then you attach the digital air pump and it takes around 30 seconds to inflate.
From here, you simply run a hose from your faucet and fill the tub, which will take about half an hour.  Then switch on the heater, and plan on it taking around 8-14 hours to heat up to the maximum temperature of 104F.  Some people, however, fill their tub with hot water directly from the faucet, so once it is filled they are good to go.
Enjoying your MSpa Super Camaro Hot Tub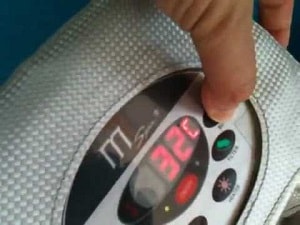 Once the water is at your desired temperature, slide into the hot tub and settle down onto the comfortable cushioned seats. Switch on the air jets and lay back and enjoy your massage.  The powerful massage system, unique to MSpa, is great for an all-over massage as well as for hydrotherapy.  It's a great way to start your day, really setting you up for the day to come, and it's equally good at the end of the day, soothing away the stresses and tension of modern-life.  It's also wonderful for parties, family get-togethers, BBQs, and so on.
Once you have finished in your hot tub for the day, you slide on the insulated cover and activate the digitally controlled lock.  This keeps the water at the right temperature, helps keep the water clean, and it gives you peace of mind if you have young children.
Although your MSpa Super Camaro comes with everything you need to fully enjoy your hot tub, you might find down-the-line you want to enhance the experience with some accessories.  There are a number of super cool accessories you can get hold of, such as floating Bluetooth speakers or a drinks holder.  The good news is, that you don't have to buy MSpa accessories for this hot tub.  Instead, you can shop around and find the best products and the best deals to really make your hot tub your own.
Who Should Buy MSpa Super Camaro Inflatable Hot Tub?
People who are looking to invest in a high-end luxury inflatable hot tub

People who want some great top-end extras included in the price

People who want an all-weather, super-strong inflatable hot tub that can be used indoors and out

People who want to relax in their hot tub without any disturbing noise from the massage system

People who want an easy-to-set up and easy-to-use hot tub

People who want a portable hot tub that will seat up to 4 adults in comfort
Don't Buy It
If you are looking for a budget model

If you want a larger inflatable hot tub that seats more than 4 adults
Overall Impression
We are fully taken with the MSpa Super Camaro.  It's a great inflatable hot tub that is worth the extra investment needed to buy it.  Because it comes with so many great features, such as the cushioned seats, it means you won't have to spend more money on buying those as an accessory after you've bought your hot tub.
But apart from that saving, the great extras such as the fantastic massage system, the 'Whisper Quiet' motor, and the all-weather super-tough build make that initial investment well-worth it in our opinion.

17 votes