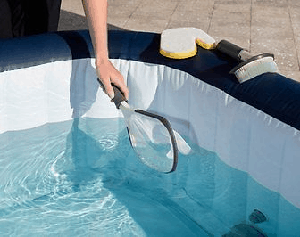 In this article, we are looking at How To Clean Your Inflatable Hot Tub.
We saw in our guide How Often Should I Change The Water In My Inflatable Hot Tub? that you need to replace the water in your hot tub regularly. This is to keep the water clean, hygienic, and safe for your hot tub users.
If you just empty out the water and replace it, however, you might be putting your clean water into a hot tub that is not 100% clean or hygienic itself. This means the water you are putting in can quickly become dirty again or, even worse, unhygienic.
Therefore, every time you empty your inflatable hot tub, it's worth spending 10 minutes giving it a thorough clean. This will end up saving you time – and worry – down the line.
And as we said in our FAQs, knowing how to clean out your inflatable hot tub is also important to do before you store it away for any length of time.
Important: Whenever you are going to empty your hot tub, and every time you are going to clean it, you must turn off the power to your hot tub first.
How To Clean The Surfaces Of Your Portable Spa

You'll find that some warm water and a soft cloth – and some mild elbow grease – should remove most of the dirt on the outside surfaces of your inflatable hot tub. Spray the surfaces with water from a spray bottle and wipe down with your cloth. This will be sufficient for 99% of the time. For the other 1%, then try a squirt of mild detergent in some warm water, such as washing up liquid or – as we prefer – liquid hand soap. If you do use a detergent solution, remember to thoroughly wipe down the surfaces afterwards with clean water.
For the inside of your inflatable hot tub, again you can use a soft cloth and some clean water. You need to pay particular attention to the water line, as this is where a build-up of dirt, oils, and chemicals can occur.
If you find that water doesn't move this build-up, or if there are some hard-to-clean stains, then avoid using detergents or soap. These create suds, which you definitely don't want inside your portable spa, as they can get into your massage jets and filters, and cause foaming.
Also, do not use a scrubbing brush of any kind on your spa surfaces. You might see this advice given on some websites. But even a gentle scrubbing brush can scratch the surface of your inflatable hot tub and shorten its lifespan.
It is much better to use a special surface cleaner like Clean 'N' Fast by Spa Choice. After using any cleaner, make sure you rinse out your hot tub thoroughly using your garden hose.
  Check Out The Best Price For Spa Choice Here
How To Clean Your Water Filters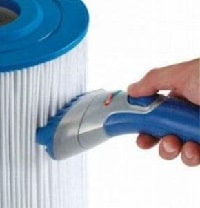 Even though there are a wide range of inflatable hot tub manufacturers, and many models to choose from, the water filters they use are remarkably similar.
As they are the cornerstone of keeping your portable spa functioning as efficiently as possible, in terms of water hygiene and cleanliness, you need to pay special attention to the water filters.
Most inflatable hot tubs have either one, or at most two, water filters cartridges. We recommend removing them once a week, and giving them a thorough cleaning.
It is relatively simple to do this. Just hose them down with a regular garden hose.
We also find that using a special filter cleaning tool is a great idea, such as the one made by Northern Lights.  This attaches to your garden hose, and powers the water deep into the fins of the filter for a really deep clean. Using the tool also prolongs the life of your filter. So you get the small initial outlay back by having to buy fewer filters.
  Check Out The Filter Cleaning Tool Here
Top Tip: Every couple of months, put your filters in the dishwasher. This is a fantastic way to give them a thorough cleaning.
Remember, though, that water filter cartridges do not last forever. So make sure you have a couple of replacements on hand. There's nothing worse than getting a filter out to clean it, and finding that it is looking worse for wear and needs replacing – but you don't have one to hand. So always keep a few in your store cupboard.
How To Clean your Hot Tub Cushions and Pillows
If you have some cushions and headrest, which either came with your portable spa, such as with the Intex PureSpa Plus Bubble Massage Set, or you bought them as Accessories, then give these a cleaning once a month.
Lift out the cushions and set them on the ground. Then remove the head rests and place them on the ground as well.
Both the cushions and the head rests can be cleaned using a mild soap and water solution, with a soft cloth. You might find they both have a slight build up of body oils. If this is the case, use some diluted Clean N Fast, and then give them a good rinse with clean water.
Always rinse the cushions and pillows with fresh water, using your garden hose, before you put them back into the spa.
How To Clean The Spa Lid
Use a mild soap and water solution on the outside of the lid, where it doesn't come in contact with the water. For the underside of the lid, though, where it sits on or above the water, you'll probably find there is a thin film of chemicals and oils that have built up from the evaporated steam.
Therefore it is better to use your inflatable hot tub cleaner for this side of the lid.
As always, rinse the lid off thoroughly with clean water before you put it back onto the spa.
One great way to help cut down on cleaning your inflatable hot tub lid is to apply a product such as 303 UV Protectant. This is a spray-on product that helps keep your lid clean and free from stains.  It also keeps your cover looking like new by protecting it from fading, discoloration, and cracking.
  Check Out 303 UV Protectant on Amazon
Tips On Keeping Your Inflatable Hot Tub Clean
Although it doesn't take long to clean your inflatable hot tub, it is always a good idea to try and keep it as clean as possible. This saves you time in the long run. After all, the reason you have your hot tub is for enjoyment. Not work!
Here then are some tips on how to keep your inflatable hot tub clean, and save on cleaning time down the line.
Always Shower First
Always make sure that you, and anyone else using the hot tub, has a shower before getting into the spa. This will remove the body oils, lotions, cosmetics, and so forth, which come off in the hot water of the spa, and create a build up on the spa surfaces.
Keep Your Hot Tub Covered
Get into the habit of always replacing the hot tub cover when it is not being used. Even if you are just popping inside to make a sandwich, slip the cover on (no need to lock it in that instance, unless there are small children around). This prevents any airborne debris from settling on the water.
Putting the cover on also helps keep the heat in, and cuts down on heating and running cots.
Change The Water Filter
When you clean the water filter, which as we saw above you should do once a week, be honest with yourself as to how much longer you can use it for. If you think the water filter needs replacing, then do so.
Top Tip: If you decide it is time to change your water filter, then soak the new filter in a diluted hot tub filter cleaner for 24 hours before you fit it. We always recommend using Baqua Spa Filter Cleaner, which is bromine- and chlorine-free.
Fill a bucket or large bowl with water, and add the correct ratio of hot tub filter cleaner. Then drop in the filter, making sure it is fully submerged. Leave it in the solution for 24 hours, then remove and give a very quick rinse before fitting the new filter in place.
If you don't have time to soak the filter, then spray the filter cleaner on the fins of the filter about 15 minutes before fitting it. Rinse quickly with clean water, and then fit in into your filter system.
  Check Out Reviews For Baqua Spa Filter Cleaner Here
Use Some Floating Flowers
You'll find that the toughest part of cleaning your inflatable hot tub is around the water line, and on the inside of the lid. This is where you get a build up of chemical residue, body oils, sweat, and so forth.
Thankfully, there is a product that massively cuts down on this problem, by absorbing the chemicals, oils, and even debris and small insects that accumulate and build up in portable spa. These are the so-called scum balls that you'll see over on Amazon. Although we prefer to use the Floating Flowers you can find there, as they look (and sound!) so much better  They are definitely one of the cleaning products that make most inflatable hot tub owners' lives so much easier.
We hope this article has proved to be helpful. We also hope that it shows you how simple it is to clean your inflatable hot tub.
Take some simple steps before you use the hot tub, add some floating flowers, and give your hot tub a good clean every time you change the water, and you'll find it soon becomes a part of your routine.
Now that you have cleaned your inflatable hot tub, and it is like new, it's time to re-fill it with water. Once that's done, you'll want to keep the water as clean as you can, to cut down on draining and cleaning time. Be sure to check out our great advice page on How To Keep The Water Clean In Your Inflatable Hot Tub.