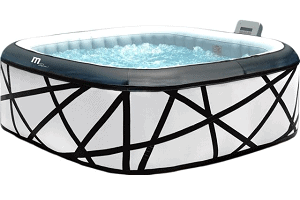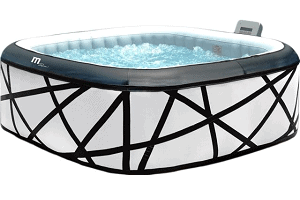 When you want your inflatable hot tub to look funky and different from the rest, the MSPA Premium Soho Outdoor Spa might be just what you need. With its white design and leather deco trim, this portable spa certainly is eye-catching.
It's one of only a few quality square inflatable hot tubs on the market, a feature that more and more people are appreciating. That's because they like the idea of having a corner to settle back into, finding that offers more support and comfort than a round hot tub.
Square hot tubs are also roomier than a comparably-sized round hot tub. This means that at 73 inches by 73 inches, and 27 inches deep, the MSPA Premium Soho Outdoor Spa is big enough for 4 adults and a couple of children to sit in comfort. And with its 132 powerful air jets, it's also excellent for hydrotherapy. You might also appreciate the fact that this hot tub has a control feature with three settings, so you can decide how gentle or powerful you want the massage jets to be.

MSPA Premium Soho Outdoor Spa – What You Get In The Box
 MSPA Premium Soho Outdoor Spa

 132 powerful air jets

 Variable speed massage system controls intensity of the massage

 State-of-the-art soft—touch control panel

 Lockable inflatable cover

 Protective ground mat

 Integrated ozone generator to help kill bacteria

 Inflation hose

 Air pressure gauge

 Garden hose adaptor

 Spare filter cartridges

 Owner's DVD and manual
MSpa are known for making high-quality recreational products, including inflatable hot tubs. Most of these hot tubs are at the luxury end of the market, and are always rated as excellent by review sites and owners.
Recently, they have started manufacturing more affordable hot tubs, which are still outstanding in quality. Happily, we can report that the  MSPA Premium Soho Outdoor Spa meets those high standards.
It is made of 6-ply laminated Rhino PVC, which makes it super-tough and durable. That said, it is still an extremely comfortable spa, with its soft silver inner liner. The walls of the hot tub have what is known as a vertical I-Beam construction. This makes them strong and supportive, so that 4 adults can sit on the sides without them buckling or giving way. It also means they are strong enough to support anyone getting in and out of the spa. This is great for anyone who might be a little unsteady on their feet.
The MSPA Premium Soho Outdoor Spa measures 73 inches by 73 inches, and it's 27 inches deep. This means it's a 4+2 model, large enough to hold 4 adults and 2 children.
With 132 powerful air jets, you'll get a great all over massage, making this hot tub great for hydrotherapy. One of the features we really like about this model is the whisper-quiet motor. With some cheaper inflatable spas, the motor can be a little noisy. This has become a bit of an issue for some hot tub owners.
With this system, however, the motor really is as quiet as a whisper. So all you can hear as you enjoy your massage is the bubbling waters.
  Check Owners' Reviews On Amazon Here
How To Set Up Your MSPA Premium Soho Outdoor Spa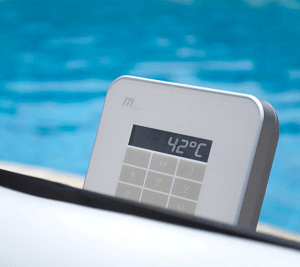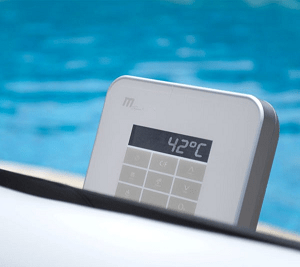 It's simple to set up your MSPA Premium Soho Outdoor Spa. Firstly, choose the place where you want to have your hot tub. This needs to be at least 10 feet wide, so you can fit the hot tub in and have access all round. It also needs to be free of anything that could rub against the hot tub, such as sharp stones, bricks, or tree branches.
When it's filled with water, the hot tub weighs over 2,000 lbs. Therefore you need to make sure the place where you want to site your hot tub will take this kind of weight. This is especially important if you want to house your hot tub on a deck or wooden floor.
Once you have your site worked out, spread out the ground mat on the floor in place, then spread out the hot tub on top.
Then you link up the inflation hose to the control panel, press the inflation button, and the hot tub will inflate in a couple of minutes. Be sure to use the manometer to check the hot tub isn't over-inflated, as this can cause the seams to leak water.
Once the hot tub is inflated, fill it with water using an ordinary garden hose, along with the hose adaptor if required. You might want to add some hot water as well, to help speed up the heating process.
When the hot tub is filled, put on the inflated cover, lock it into place securely with the buckle straps, and then turn on the water heater. As with other inflatable hot tubs, the water heats up at 2-3F an hour, so it will take between 12 and 24 hours to reach the maximum temperature of 104F.
Relaxing In Your MSPA Premium Soho Outdoor Spa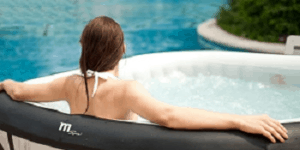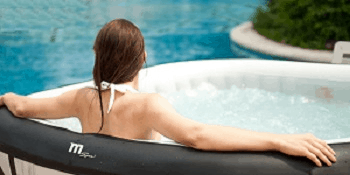 With the water at your chosen temperature, slide off the cover, and slip into the hot waters. The soft-touch control panel is right on the side of the hot tub, so it's just a matter of reaching out to turn on the massage system.
The MSPA Premium Soho Outdoor Spa also has a button to control the intensity of the massage. This has three settings, from mild to very powerful, although we found the middle setting was strong enough to give a very relaxing massage.
Remember that although this hot tub is large enough for 4 adults as well as a couple of children, there are certain safety rules you need to follow concerning children in hot tubs. We have written an article on this subject, which you can read here Keeping Children Safe In Your Inflatable Hot Tub.
Overall Thoughts
There's so much to like about the MSPA Premium Soho Outdoor Spa. We are increasingly enamoured with square hot tubs, with their extra seating capacity and corners to relax back into. The design of this hot tub also makes it stand out, and makes it unique.
We also like the massage system control button. It's nice to be able to decide just how strong you want the massage to be. This is usually only available on very expensive inflatable hot tubs. So it's nice to see MSpa adding it to this price range spa.
All in all, this is a great-looking hot tub, with all the performance, quality and high standards of a much more expensive spa.
Who Should Buy The MSPA Premium Soho Outdoor Spa?
People looking for an eye-catching and funky design

People who want a large square portable hot tub

People who want a controllable massage system

People who want a sturdy hot tub that will support them getting in and out

People looking for a hot tub for all the family
Don't Buy It
If you want a Budget-priced inflatable hot tub

If you prefer the round models

17 votes