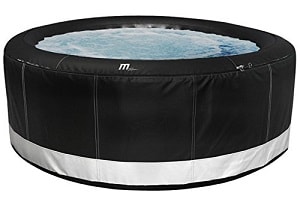 The MSpa B-130 Camaro 4-Person Inflatable Spa is a great looking inflatable hot tub. It's built of high-quality laminated PVC, designed for ultra strength and durability, and it also has a synthetic leather exterior which makes it look and feel superb
MSpa mostly make luxury models which cost well over $1,000.  This mid-range model, however, is around half that price, but it still retains MSpa's renowned quality and top-of-the-range appearance.
It is advertised as a 4-person portable hot tub, with 4 in-built padded seats inside.  It is certainly big enough to hold 4 adults in comfort without feeling in any way cramped, as long as all 4 don't want to stretch fully out at the same time. With 2 or 3 people in the tub, however, everyone will have enough space to lean back, kick back, and enjoy the powerful massage system that MSpa always include in their inflatable hot tubs.

MSpa B-130 Camaro 4-Person Inflatable Spa – What You Get In The Box
 MSpa B-130 Camaro Inflatable Spa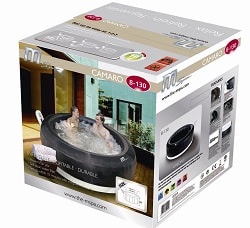 Powerful 110 air jet massage system

 4 in-built padded seats and padded floor

 Built-in digital control panel with touch button controls

 Smart Inflation system

 Water heating system up to 104F

 Zippered leather-style cover

 Self-clean water filter

 Floating chemical dispenser

 Heat preservation mat

 Garden hose adapter

 Owner's manual
The MSpa B-130 Camaro 4-Person Inflatable Spa measures 71 inches in diameter and 28 inches deep. Some manufacturers greatly exaggerate the capacity of their hot tubs, but the extra inch or two of depth that this round hot tub has over other models makes it feel nice and roomy. Certainly, 4 people can sit inside in comfort and thoroughly enjoy their spa experience.  However if you want an inflatable hot tub to stretch out in, and enjoy the soothing benefits of the hot water and massage jets, then think of this as more suitable for up to 3 adults.
Most MSPa inflatable hot tubs are at the high-end of the price range, and it is encouraging to see that the company have started to produce some mid-range models as well.  But although this round hot tub is cheaper in price, it is certainly not inferior in quality.  It has the strength, design, and luxury appearance of those more expensive MSpa inflatable hot tubs that have been best-selling luxury models for years.
The interior is comprised of 6-ply super-strong PVC, which is both rip-resistant as well as being frost- and UV-proof.  And with its strong leather-style exterior covering, you have an inflatable hot tub that looks great, feels great, and one that will last for years.  As well as it holding 4 adults comfortably inside, it is also easily strong enough for 4 adults to sit on the sides without it giving way or even buckling.
Because of its inner construction and outer skin, this hot tub can be used in most weathers, including mild winters. So if you're looking for an inflatable hot tub you can use outdoors, most of the year round, then it is well worth checking out.
 Click Here To Read Customer Reviews On Amazon
How To Set Up Your MSpa B-130 Camaro 4-Person Inflatable Spa
Your portable spa is extremely simple to set up.  You lay out the heat preservation mat in the area where you want to site your hot tub. Then you place the hot tub on top of the mat, link up the inflation hose, plug in the Smart inflation system, and the hot tub inflates all by itself.  From opening the box until it is fully inflated usually takes about 10 minutes.  We do, however, always recommend reading the instruction manual before you even take the portable hot tub out of the box.
Once it is inflated, run a hose from your water system into the hot tub, using the garden hose adaptor that is included, if required.  It will take about half an hour to fill it up.
Once the tub is filled, turn on the water heater, place the cover on top of the hot tub, and leave your hot tub to heat up overnight.  Plan on it taking anywhere between 8-12 hours to reach your desired temperature.  If you can't wait that long, you can add some hot water to the tub as you are filling it up.  This will raise the temperature of the water, and lead to a much quicker heating time.  In fact some people fill it directly with hot water so they can use their inflatable hot tub as soon as it is full.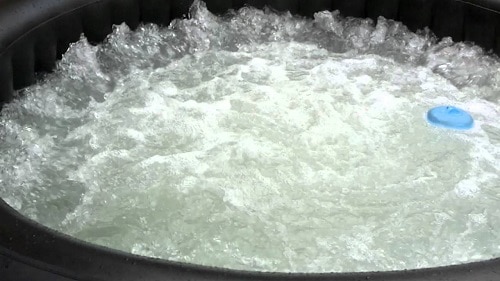 Enjoying Your MSpa B-130 Camaro Inflatable Spa
When the water is ready, unzip the lid and slip into the water, to enjoy its relaxing and healing properties.  If you want to enjoy an all over massage, turn on the 110 air jets and relax in the bubbling waters.  The digital control panel is conveniently attached to the side of the portable spa, so it is simply a matter of reaching out and touching a button, to turn on and off the jets.  The control panel also controls the water heater and the inflator.  Everything you need is right at hand, without you having to get out of the hot tub.
You might find that you do want to add an extra or two, to make your time in the inflatable hot tub more enjoyable.  Many MSpa B-130 Camaro owners have especially opted for an attachable drinks holder, to enhance their experience.  For a full range of accessories which you can buy to go with your inflatable hot tub, check our Accessories page here.
Who Should Buy MSpa B-130 Camaro 4-Person Inflatable Spa?
People who are looking for a mid-range inflatable hot tub which has luxury-range features

People who want a great-looking portable hot tub

People who want the built-in comfort of the inflatable floor and padded seats

People who want to use their inflatable hot tub in chillier weather such as Spring and Fall.

People who want an easy-to-set-up and easy-to-use inflatable hot tub
Don't Buy It
If you want a Budget model under $500

If you want a mid-range model that can seat more than 4 adults
Overall Impression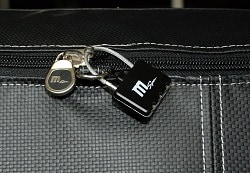 We have always liked the MSpa inflatable hot tubs we have tested in the past.  They are so well-made and comfortable, with some great features.  So we were hoping for some great things with the MSpa B-130 Camaro 4-Person Inflatable Spa.  Our one question was: Had they built a model which had the MSpa quality and comfort for half the price of their more expensive models?
Happily, we immediately saw that they had succeeded.  The MSpa B-130 Camaro 4-Person Inflatable Spa is a great mid-range inflatable hot tub.  Apart from the powerful massage system you get with every MSpa inflatable hot tub, and the superior look it has, we really like the comfortable floor and built-in seats.  They add a special something, and make this a good investment all-round.

27 votes