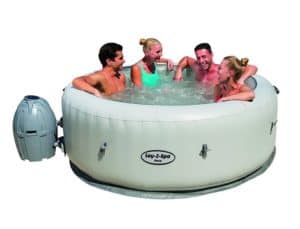 The Lay Z Spa Paris inflatable hot tub is a fantastic budget model, with a high level of quality and some awesome features that you would expect of a high-end hot tub costing over $1,000.
It measures 77 inches (6 feet 5 inches or 1.96m) across, which is a fairly standard size for most budget hot tubs under $500.  This is large enough to seat 4 adults in comfort, or a couple of adults and several children. It also comes with a wide range of accessories all included in the price.  These include an inflatable and insulated lid, leather-style lockable cover, an internal cushioned floor, as well as an air cushioned ground mat.
What makes the Lay Z Spa Paris stand out most from other budget models is that it has an in-built 7-color LED light show.  This makes the hot tub look amazing at night, and creates a superb ambience and light display, perfect for a romantic evening for two, or a fun-filled family hot tub party.

The Lay Z Spa Paris inflatable hot tub was introduced onto the market at the end of 2015.  It took the inflatable hot tub market by storm, and quickly became a best-seller.  That's not surprising when you see what you get for around $400.
Lay Z Spa Paris – What You Get in The Box
 Lay Z Spa Paris Inflatable Hot Tub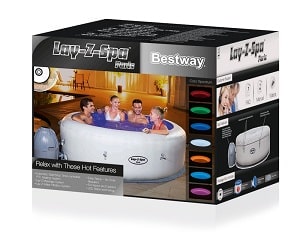 7-color LED underwater light show, with waterproof remote control

 87 air jet bubble massage system

 Digital inflation pump

 104F rapid heating system with timer control

 Insulated and inflatable lid

 Leather-style lockable cover

 Cushioned floor inside the hot tub

 Air cushioned ground mat

 Filter cartridge and chemical float

 Instruction DVD
UPDATE: The Lay Z Spa Paris is now known as the SaluSpa Paris. So don't get confused by these different names. They are exactly the same inflatable hot tub.
The Lay Z Spa Paris is made by the Bestway corporation, which make the widest range of best-selling inflatable hot tubs on the market, including the SaluSpa Palm Springs, and SaluSpa Hawaii models.  As with all of these portable hot tubs, the Lay Z Spa Paris is made to the highest standards and with the latest inflatable hot tub technology.
It's constructed of Bestway's unique 3-ply reinforced TriTech material, and the walls have an internal I-Beam construction, which makes it super-strong and durable.  This means 4 adults can sit on the sides of your hot tub without it buckling or giving way.
At 77 inches across and 26 inches tall, the Lay Z Spa Paris is one of the bigger budget models, but when the manufacturer says it is big enough for 5-6 adults that's an exaggeration.  Plan on it being more suitable for 4 adults sitting in it or 2 adults stretched out, and you'll be able to imagine its real size. When filled with water, the hot tub holds 250 gallons of water. This means it weighs 2,700 lbs when full, so make sure if you want to put it on a deck, that the deck can take this weight. 
As well as the internal cushioned floor, you also get a separate air cushioned ground mat, for extra protection and comfort.  There's also an insulated and inflatable cover, which helps keep the water hot when you are not using the hot tub.  And, for added protection and insulation, the cover has double safety-lock clips.  So you can rest safe knowing that young children cannot get into the tub when you are not around.
This round hot tub has the powerful Lay Z Spa AirJet system, with 87 air jets which give a soothing massage.  There's also an integrated filter system to keep your water clean and free from contaminates.
Lay Z Spa Paris Light Show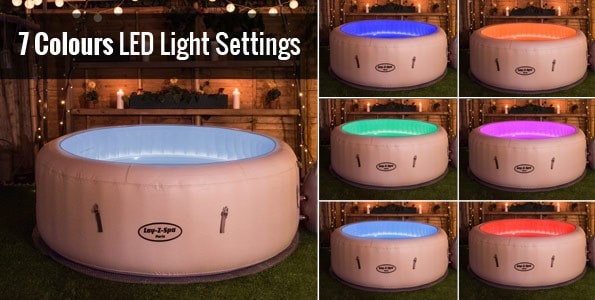 While you relax in your Lay Z Spa Paris inflatable hot tub, you can switch on the built-in 7 color LED lighting system to create the right kind of atmosphere.  There's a waterproof remote control system which allows you to alter the lights from inside the hot tub in complete safety.  You can choose to have the 7 colors on auto-cycle, or you can select just one of the colors to suit the mood, whether that's bright fun style or soft and romantic.
This is a feature many owners especially love about this model – that and the fact it's included in the price when you buy your hot tub.
  Check Owners' Reviews On Amazon Here
How To Set Up The Lay Z Spa Paris Inflatable Hot Tub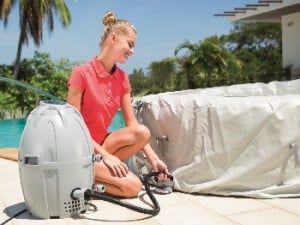 The Lay Z Spa Paris inflatable hot tub is easy to set up, and takes only 10 minutes to lay-out and inflate.
First, you place the separate air cushioned mat in the position you want your hot tub to be in.  Then you lay out the hot tub on top of the mat, connect the hot tub to the pump and switch it on.
It takes about 5 minutes for your hot tub to inflate, ready to be filled with water.  There are also two useful grab handles, which you can use to maneuver your hot tub into the perfect position once it's inflated.
Using a normal garden hose, you then fill the spa with water, up to the guide line marked on the inside of the tub.  Then you need to turn on the built-in Rapid heating system.  It should take between 12 and 24 hours to heat up to the maximum temperature of 104F (40C).  As we have mentioned before in our other reviews, you can cut this time down by putting in some hot water rather than just using cold water from your faucet.
Getting The Most From Your Lay Z Spa Paris Hot Tub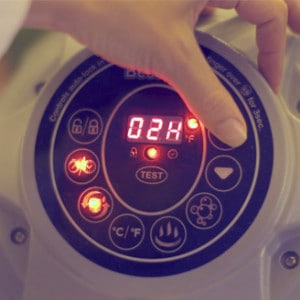 As soon as you slip into the soothing waters of your hot tub, you'll start to relax straight away.  And once you're in, there's no need to get out for anything.  Everything you need to fully enjoy your spa experience is right there at hand.
The Digital Control Panel allows you to set the water temperature to the exact heat you want, and it gives you full control over the AirJet massage system.  It also allows you to switch on, and totally control, the LED lighting system.
Once you have enjoyed your hot tub for a while, you might decide to add in a couple of accessories to complete the experience, such as a floating Bluetooth speaker or a side-of-the-spa drinks tray.  Keep in mind our Top Tip, however, that you don't necessarily have to buy Lay-Z-Spa accessories if you don't want.  Shop around and you'll see that many hot tub accessories will work perfectly with your Lay Z Spa Paris inflatable hot tub.
Overall Thoughts
To be honest, the Lay Z Spa Paris ticks so many boxes in the Budget Inflatable Hot Tub range that it can be difficult to find any serious faults with it.  Because it is a budget model, however, it doesn't have the powerful massage system that a more expensive portable jacuzzi will have, such as the MSpa Super Camaro.  But then for around $400, it is still a great inflatable hot tub.
In our opinion, it is a great-looking round hot tub, with its leather-style cover.  Most of all, because of the inclusive LED Light Show, we feel it is actually a better buy than the #1 best-selling Coleman Lay Z Spa.
So if you're looking for a fantastic budget model, we thoroughly recommend the Lay Z Spa Paris inflatable hot tub.

77 votes