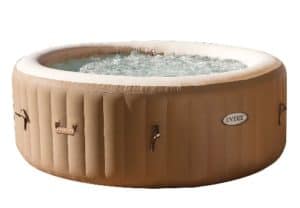 Here's the thing about the Intex 77 inch PureSpa Portable Bubble Massage Spa: you get a lot of inflatable hot tub for your money.  It's a similar price to the best-selling Coleman Lay Z Spa, both coming in at under $400.  But is it a worthy competitor?
Well, the Intex 77 inch PureSpa Portable Bubble Massage Spa is one of the largest models you can buy at this price, at 6′ 5″ across.  It's built of a super-sturdy construction, capable of supporting 4 people sitting on the edge of the tub without it buckling. It also has lots of impressive features and accessories as part of the package.  We especially like the built-in hard water treatment system which is important if you live in an area where hard water is a problem.

If you decide to buy the Intex 77 inch PureSpa, be sure to check you are purchasing the round version.  There is an octagonal model, but this sells for up to $200 more.
Intex 77 inch PureSpa Portable Bubble Massage Spa – What You Get In The Box
 Intex 77 inch PureSpa Portable Bubble Massage Spa

 In-built heating system

 Digital control panel

 Bubble jet massage system

 Built-in hard water treatment

Insulated lockable cover

 Thermal ground mat

 2 filter cartridges and a chemical float

 Carry bag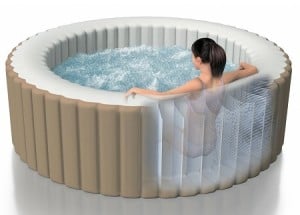 Your PureSpa Portable Bubble Massage Spa measures 77 x 77 inches round (1.96m) and 28 inches (71cm) deep.  This makes it big enough for 4 adults or a couple of adults and a few small children.
It's built with Intex's unique Fiber-Tech Construction. This keeps it lightweight so you can maneuver it into place, yet strong enough to last for years and to support you and your family comfortably when you're using it.  It also means you can sit on the sides of the hot tub without ever worrying that it's going to collapse or split.
The bubble massage system consists of 120 bubble jets, all activated by a digital control panel.  This control panel is on the side of the hot tub, so you can control everything without having to get out of the water.  It also allows you to choose the exact temperature of your water, from 68F to 104F.
PureSpa Hard Water Treatment System
An excellent feature of the Intex 77 inch PureSpa is the built-in hard water treatment system.  This is perfect for anyone living in a hard water area.  It uses advanced technology to generate an electro-magnetic field that agitates the calcium and other minerals which are found in hard water, causing them to create suspended crystals.  The built-in filter cartridge, which is part of the package, then filters out these minerals, so the water in your spa is soft and kind to your skin..  It also prolongs the life of your inflatable hot tub.
This one feature makes the PureSpa range of inflatable hot tubs stand out from all other competitors in their price range, and it is a definite feature to consider if you do live in a hard water area.
  Click Here To Read Customer Reviews On Amazon
How To Set Up Your Intex 77 inch PureSpa Portable Bubble Massage Spa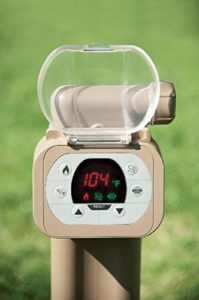 The PureSpa is definitely one of the easiest portable hot tubs to set up.  It takes around 20 minutes to unpack, lay out and inflate, using the built-in digital air pump.  Simply choose where you're going to place your hot tub; check it's clear of sharp objects, and then lay out the ground mat.  Then lay out your hot tub, attach the digital air pump, and switch it on. 
One very useful feature of the PureSpa are the grab handles on the side.  These allow you to inflate the hot tub in one place – maybe where you have more room to walk around it – and then easily move it into position once it's inflated.  And because of PureSpa's super-sturdy construction, you don't have to worry about it tearing when you drag it – although, as always, make sure you check there are no sharp objects. Better safe than sorry!
After that, you should plan on it taking about an hour to fill with water, and then another 12-24 hours to heat to 104F.  The time it takes to heat up depends on the temperature of the water, and also the temperature of the air.
One useful tip that several owners have found is to fill their hot tub with water from the faucet in their kitchen, using a simple garden hose.  This means it takes less time for the water in your hot tub to heat up to your desired temperature.
Relaxing In Your PureSpa Inflatable Hot Tub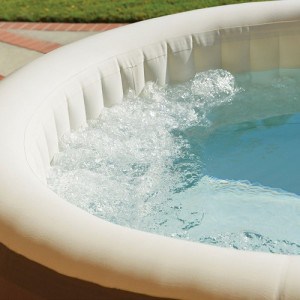 When the water is at your desired temperature, your inflatable hot tub is ready to enjoy.  Slip into the tub, sit back, and switch on the Bubble Massage System, using the digital control panel.  If you don't keep the water heater on, you will find that the water does cool a little.  Simply switch on the heater for 10-20 minutes, and it will soon reheat.
To keep the water as hot as possible, remember to use the insulated cover when you have finished.  This keeps the heat in and the water clean.
Once you have used your Intex 77 inch PureSpa Portable Bubble Massage Spa a few times, you may decide to buy a few extras, to enhance your spa experience.  There are some great add-ons, such as head rests, cushioned seats, and floating speakers.  Intex have a range of their own accessories – however as we always advise: you don't have to buy accessories from the same manufacturer that makes your hot tub. Always shop around and find the accessories you want.
If you follow this link, you'll find a range of great accessories that we have used with a number of portable spas.
Downside
This inflatable hot tub lacks one feature that we believe stops it from being the #1 Budget Model Best Seller.  That's the lack of a cushioned floor.  
Most other budget models include a cushioned or inflatable floor as standard.  However for some reason, Intex have not built one in the 77 inch PureSpa Portable Bubble Massage Spa.
But don't worry too much, if you have set your heart on buying this model.  You can purchase some regular and inexpensive cushioned matting – such as the kind used in school gyms and sports halls – and place these under your hot tub.  Or you can simply buy several hot tub cushioned seats instead.
Who should buy Intex 77 inch PureSpa Portable Bubble Massage Spa?
People who don't want to spend too much on their hot tub

People who want a more powerful massage system than most budget models provide

People who live in a hard water area

People who want some great extras included in the price

People who want a no-fuss set-up-and-go portable hot tub
Don't Buy It
If you are looking for an inflatable hot tub big enough for more than 4 adults

If you are looking for a luxury inflatable hot tub

If it is important that your hot tub has a cushioned floor
Overall Impression
We have a real fondness for the Intex 77 inch PureSpa Portable Bubble Massage Spa.  With its 120 bubble jets, the massage system is more powerful than the Coleman Lay Z Spa, and it's equally sturdy in its build.  The lack of a cushioned floor is a small concern, and a puzzling omission as well.  However, if we lived in a hard water area, we would definitely buy this model and simply add-in some cushioned matting and some cushioned seats.  Even with this extra expense, we'd still have a great portable spa, all for under $500.

1,476 votes