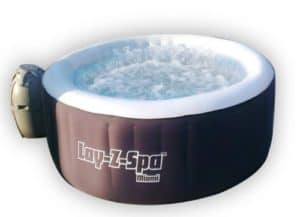 Looking to buy an inflatable hot tub that doesn't break the bank? Looking for one of the easiest portable hot tubs to use, and one that gets great reviews from its owners? The Lay Z Spa Miami Portable Hot Tub could be exactly what you are looking for.
Measuring 71 inches across, this sturdy round hot tub is a good choice for anyone who has limited space or is looking for a model in which 2 people can stretch out and relax in comfort.  It's also an excellent choice for anyone who is looking for a round hot tub in which they can do hydro-therapy and water aerobics.
The Lay Z Spa Miami is a popular value-for-money model, costing well under $400. This makes it a great choice to take the plunge into the world of inflatable hot tubs, allowing you to experience just how good they are without having to invest a small fortune.

Lay Z Spa Miami – What You Get In The Box
 Bestway Lay Z Spa Miami Inflatable Hot Tub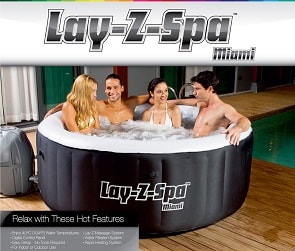 120 air jet bubble massage system

 Rapid heating system up to 104F

 Insulated inflatable cover

 Electric inflation system

 Digitally controlled water heater and massage system

 2 spare filter cartridges and a chemical float to keep your water sparkly clean

 Puncture repair kit

 Instruction DVD
The Lay Z Spa Miami is made by the Bestway company, one of the leading manufacturers of sporting and leisure products in the world. Their expertise in producing great portable hot tubs, coupled with their reputation for research, innovation and affordable design, means the Miami model packs a lot of punch for its pennies.
UPDATE:  The Lay Z Spa Miami is now known as the SaluSpa Miami.  So don't worry if you see this name. They are exactly the same inflatable hot tub.

This round hot tub measures 71 inches (1.80m) across when fully inflated, by 26 inches (65cm) deep. Although this makes it several inches shorter than the equally-priced Coleman Lay Z Spa, it is still just about large enough to fit 4 adults in, although you would need to all sit with your knees up, and to be honest it would be a little cramped.
It is better to think of the Lay Z Spa Miami as a great round hot tub for 2 people to stretch out and relax in comfort.
The Lay Z Spa Miami holds 177 gallons of water, and weighs over 1,500 lbs when full. It's constructed of a 3-ply reinforced material designed by Bestway, called Tri Tech. The sides of the hot tub also have what is called an I-Beam construction.  This is especially strong and made-to-last, and it means users can sit on the sides of the spa without the spa bending or buckling. This makes the Lay Z Spa Miami a good choice for anyone who is a little unsteady on their feet, and needs the confidence given by a sturdy inflatable hot tub.
AirJet Massage System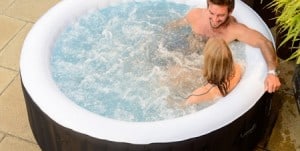 The Lay Z Spa Miami has 120 Air Jets which send thousands of bubbles through the water. These bubbles massage and soothe tired muscles – as well as providing great fun for any children who enjoy the tub. 
Some people who have never tried a portable hot tub before are concerned that the massage system might be of poor quality, especially in a Budget Model.  However, the Lay Z Spa Miami has an incredibly powerful system, one of the best of any model in this price range.
If you are looking to buy an inflatable hot tub for hydrotherapy purposes, where 1 or 2 people can exercise and receive a great all-body massage, then the Lay Z Spa Miami is definitely worth checking out.
  Check Owners' Reviews On Amazon Here
How To Set Up Your Lay Z Spa Miami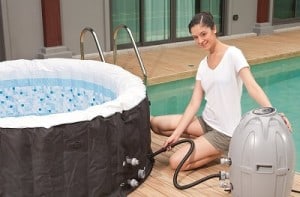 The Lay Z Spa Miami takes about ten minutes to lay out and inflate, which you do by using the electric inflation blower that comes with your tub.  Then you fill it with water and switch it on to heat up. 
Plan on it taking anywhere from 10-24 hours to heat up, depending on the temperature of the water you use and the air temperature.  You might decide to do what some other owners find useful, and that is to fill their hot tub with warm or hot water from the faucet. This gives it a boost and speeds up the heating process.  As with most hot tubs, the maximum temperature the water will heat up to is 104F.
Once the water in your Lay Z Spa Miami heats up, it's then very easy to keep it at your chosen temperature. This is helped greatly by using the inflatable insulated lid which comes with the tub.  We recommend putting the lid on every time you finish in the spa, to keep the water hot and to keep it clean.
Enjoying Your Lay Z Spa Miami Hot Tub
When you slip into the relaxing hot water of the Lay Z-Spa Miami, everything you need is at hand.  The spa features a Digital Control Panel, which you use to set the temperature you desire, up to 104F.
The Control Panel also activates the Lay-Z-Spa Massage System, as well as the water filtration system.  All of this without having to leave the luxury of the tub.
To enhance your hot tub experience, you might want to add some extras, such as drinks tray, floating games board, or floating Bluetooth speaker.  What's good, though, is that you don't have to buy Lay Z Spa accessories as all hot tub accessories will go with your Lay Z Spa Miami.,  This means you can shop around for the best deals, which is what we always recommend to our website visitors.
Who Should Buy The Lay Z Spa Miami Inflatable Hot Tub?
People looking for a great-value no-nonsense hot tub

People looking for an inflatable hot tub that is good for hydro-therapy

People looking for a sturdy model that will last for years

People who want a good-size 2 person model 

People who have limited space

People who want an easy-to-set up and easy-to-use hot tub

People looking for one of the best-value round hot tubs on the market
Don't Buy It
If you want a larger 4-person inflatable hot tub

If you want a more luxurious portable hot tub with more accessories included in the price
Overall Impression
In our opinion, the Lay Z Spa Miami is a great little hot tub, one of the best Budget models you can buy. Although it is sold as a 2-4 person hot tub, we would definitely recommend it as a large 2-person hot tub, as we find it a little cramped for 4 adults. It's also a great portable spa to consider if you want a hot tub for hydro-therapy and massage purposes – just lying in it on your own, enjoying the powerful massage system while working out is an experience we thoroughly recommend.

805 votes