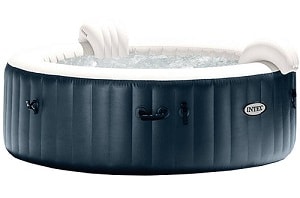 You get a lot for your money with the Intex PureSpa Plus Bubble Massage Set.
For a start, there's the striking cobalt blue and white Intex PureSpa Plus, with its powerful 120 airjet massage system. This round hot tub measures 77 inches across, and it's 28 inches deep.  This means it is large enough to fit 4 adults in comfortably without anyone feeling cramped. 
As well as the inflatable hot tub, there are a load of goodies which come as part of the set. These include the in-built hard water treatment system, the insulated lockable cover, the thermal ground mat, the carry bag, four spare filter cartridges, and two Intex head rests, along with several other useful extras as well.

Intex are known for the high quality of their portable spas, and with this model they have produced a great-looking hot tub that is sturdy yet extremely comfortable, at a totally affordable price. It's easy to see why so many owners have given it a solid 5 star rating all round.
Intex PureSpa Plus Bubble Massage Set – What You Get In The Box
 Intex PureSpa Plus Inflatable Hot Tub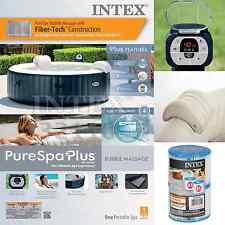 120 airjet bubble massage system

 2 head rests

 Insulated lockable lid

 Built-in hard water treatment system

 Digital control panel

 In-built heating system

 Thermal ground mat

 Filtration system with 4 filter cartridges

 Floating chlorine dispenser

 Carry bag
The Intex PureSpa Plus measures 77 inches x 77 inches round and 28 inches deep.  It holds 210 gallons of water, and weighs 1,850 lbs when full.
So many hot tub manufacturers exaggerate how many people can fit into their hot tubs, and it always a good idea to double-check their claims.  But with the Intex PureSpa Plus, you really can fit in 4 adults. Of course with 2-3 adults, there's even more room, and everyone could lay out and totally relax in the bubbling waters.
These bubbles are produced by the powerful Intex massage system, which consists of 120 air jets. This makes this particular portable hot tub excellent for hydrotherapy, as well as for all the health benefits you get from regular use of your hot tub.  The massage system is controlled by the digital control panel, which sits on the side of the hot tub, so that you can control everything from the comfort of the relaxing waters without having to get out.
The hot tub is made of Intex's internal Fiber-Tech construction, and the skin consists of 3-ply laminated PVC.  This gives the spa a tough, puncture-proof yet lightweight build, so that with the right care it will last you for years to come. It also means that adults can sit on the side of the hot tub without it collapsing or even buckling.
The hot tub also benefits from the in-built PureSpa Hard Water Treatment System.  This makes the Intex PureSpa Plus a great choice for anyone living in a hard water area.  Hard water contains a high percentage of calcium, which can build up and cause serious damage to your hot tub.  The treatment system works by generating an electro-magnet fields which works on the calcium and other minerals in the water, turning them into crystals.  The hot tub's filter system then filters out these crystals, in effect softening the water and preventing it from damaging the spa. One other advantage is that the soft water is also much kinder on your skin.
  Check Owners' Reviews On Amazon Here
How To Set Up The Intex PureSpa Plus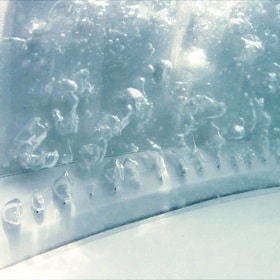 It takes about 20 minutes to set up your portable spa. Firstly, you need to lay out the thermal ground mat where you want to site your hot tub.  This area needs to be flat, and at least 8 feet by 8 feet, to allow access to the hot tub from all sides.
Next, unfold the hot tub on top of the ground mat and attach the inflation hose to the hot tub inlet and the control panel.  It takes less than 5 minutes to inflate the hot tub. When it's inflated, detach the inflation hose and tightly close the air inlet.
If you wish, you can move the hot tub, using the very useful grab handles on the side.  These are always a favourite feature of ours, when it comes to Intex inflatable hot tubs, and we wish every manufacturer would have them on their hot tubs.
When the portable spa is in place, fill it with water using a garden hose.  This will take around 30 minutes, depending on the strength of your water supply.
Once the hot tub is full, attach the digital control panel and turn on the water heater. You can choose the temperature of the water, from 68F-104F.  If you choose the highest temperature, it can take up to 24 hours to heat the water from cold.  Therefore you might want to add some hot water when you first fill it up.  This will speed up the heating time.  In fact, some people fill their inflatable hot tub with hot water and it is ready to go.
If the water does need heating, put on the insulated cover.  This will help speed up the time required to heat the water, and it will also keep the heat in. You should get used to putting the cover on every time you are not using the hot tub.  This keeps the water hot, and it prevents children from getting in when there are no adults around.
Enjoying Your Intex PureSpa Plus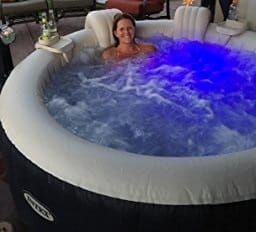 When the water is at your desired temperature, all you have to do is remove the cover and climb into the hot waters.  Then turn on the massage system and lie back and relax.  The head rests which come as part of this package are a great addition. They are designed to be filled with water, and then sit on top of the hot tub walls. The hot tub sides are certainly comfortable enough to rest your head on, but the head rests lift the comfort to a luxurious level.
Of course there are only two head rests which come with the hot tub, which we feel is a slight oversight by Intex, as this spa is designed for 4 adults.  This oversight prevents us from giving the Intex PureSpa Plus a full 5 star rating.  You can, however, buy two more head rests if you wish, along with other accessories, to enhance your spa experience.  You can check out a range of excellent extras on our Accessories page here.
Who Should Buy Intex PureSpa Plus Bubble Massage Set?
People who want a great looking inflatable hot tub, roomy enough for 4 adults

People who want a good range of extras included in the price

People who want a powerful massage system, strong enough for hydrotherapy

People who live in a hard water area

People who want a plug-and-play inflatable hot tub that is super simple to set up
Don't Buy It
If you don't have enough space to hold a 77 inch hot tub

If you are looking for a luxury model

26 votes