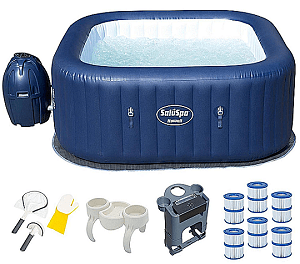 The Bestway Hawaii Inflatable Hot Tub with Music Center is a fantastic deal for anyone looking to buy a square inflatable hot tub.
That's because not only do you get the best-selling Saluspa Hawaii portable hot tub, you also get some cool extras thrown in. There's a drinks and snack holder, 6 cartridge filters, a spa cleaning kit, and best of all a Bluetooth compatible music center.
So from the moment you set it up, you get a hot tub with entertainment center that's perfect for both relaxation and for garden BBQs and parties.  Meanwhile, the extra filters and cleaning kit means you're ready to keep those waters sparkling clean for years to come.
What's also great is that you can buy this all-in-one package for a hundred dollars or so less than some suppliers are charging for the Saluspa Hawaii hot tub on its own.

Bestway Hawaii Inflatable Hot Tub with Music Center – What You Get In The Box
 Bestway Saluspa Hawaii Inflatable Hot Tub

 120 Air Jet massage system

 104F Rapid heating system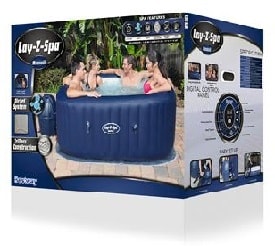 SaluSpa Bluetooth Entertainment Center

 SaluSpa Drinks Holder and Tray

 Digital control system with soft-touch control

 Energy Saving Timer

 Cushioned floor with convenient quick-drain valve

 Inflatable leather-style cover with safety lock clips

 Ground mat

 Bestway Spa Cleaning Kit

 6 filter cartridges

 Repair kit
Bestway Saluspa Hawaii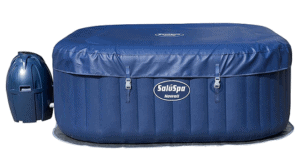 Your Bestway Saluspa Hawaii inflatable hot tub measures 71 inches by 71 inches square and is 28 inches deep.  It holds 222 gallons of water and weighs around 1,900 lbs when full.  It's constructed of Bestway's 3-ply Tri Tech material, which makes it extra-durable and rip resistant. The walls also have an internal I-Beam construction, which means they are strong enough for several adults to sit on the sides without them buckling or giving way. These construction features mean that with the right care and treatment, this inflatable hot tub will last you for years.
Although it is advertised as a 6-person portable spa, to be honest that is an exaggeration.  Certainly six adults can fit in the hot tub, but it would be a very tight squeeze.  It's more realistic to think of it as an inflatable hot tub for 4 adults.  One of the advantages that a square hot tub has over a round hot tub, is that more adults can fit into a smaller space without it feeling cramped.  So even though the Bestway Hawaii is a few inches shorter than comparably priced models, like the Intex PureSpa Plus, it still feels roomy when 4 adults are in it. If you want a square hot tub for 2 adults to stretch out in, then that would make it a fantastic choice.
The Extras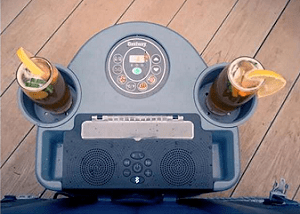 As well as a best-selling inflatable hot tub, you also get some great accessories included in the price.
What many owners find, is that once they've used their inflatable hot tub a few times, they realize some accessories would be nice additions.  As you can see on our accessories page, there are a lot out there you can buy; but this package means you get some of the most useful extras right out the box.
First off, there's the SaluSpa Bluetooth Entertainment Center.  This clips over the Digital Control Panel, while still leaving full access to the soft touch controls and visual display.
The system supports Bluetooth 4.0, so you can listen to music whilst enjoying the delights of the hot water. You can also talk on your phone if you wish: although to be honest, the last thing we want when relaxing in our inflatable hot tub is a phone call.  But it is good to have it nearby, just in case.  The Entertainment Center also has 2 cup holders, some extra storage for your phone or other small personal belongings, and it has a rechargeable, built-in battery.
The package also includes 6 cartridge filters.  We recommend replacing your filter every 3-6 months, depending on how often you use your hot tub.  That means you get up to 3 years' worth of filters.  Add in the spa cleaning kit, which consists of a net to scoop out any leaves or debris, a brush to clean the hot tub surface, and a scrubbing mitt, and you'll be set to keep your inflatable hot tub in perfect condition.
To top it all off, you also get the Bestway SaluSpa Drinks Holder and Tray.  This fits on the side of the hot tub and holds two drinks and some snacks. The drink holders can be separated from the tray, and all parts can be fitted onto the side of the hot tub.
  Check Owners' Reviews On Amazon Here
How To Set Up The Bestway Saluspa Hawaii Inflatable Hot Tub
The Bestway Saluspa Hawaii is a plug-and-play inflatable hot tub, which means it is super easy to set up. From taking it out of the box to having it inflated and filled with water will take under an hour.
Firstly, lay out the ground mat in the position where you are going to site your hot tub, then unroll the hot tub on top.  Plug in the control panel and link the inflation hose from the control panel to the hot tub inflation valve.  It will then take around 10 minutes to inflate.
Once the hot tub is inflated, it will take around 20 to 30 minutes to fill it with water.  If you want to give the water a boost, and cut down on heating time, then add some hot water from your faucet.  
Once the water reaches the maximum fill line, marked inside the hot tub, put the inflatable cover on and link the hot tub to the control panel.  If you have filled the hot tub with cold water, it will take up to 24 hours to heat it to the maximum temperature of 104F.  The heating rate of 2F an hour is standard for inflatable hot tubs.
Enjoying The Bestway Hawaii Inflatable Hot Tub with Music Center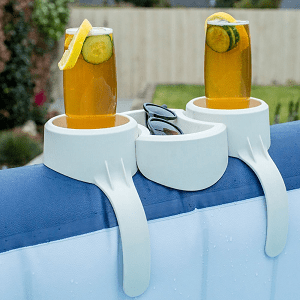 When the water is at your desired temperature, slide off the lid and slip into the hot waters.  The digital control panel is close at hand, so you can turn on the massage system without having to get out of the hot tub.  You can also give the temperature a boost if you wish.  You will find that if you keep using the massage system, the temperature of the water will drop a little.  This is standard in all hot tubs.  It is then just a matter of giving the water heater a quick boost.
Of course, with the music system and drinks tray at hand, you're all set to have an even more relaxing time in your portable jacuzzi, with music and drinks all to hand.
When you have finished in your hot tub, slip the cover back on.  You can also set the Energy Saving Timer. This allows you to schedule when you want the hot tub to start heating up, so it's ready for when you get home.
Our Verdict
If you decide that you want a square inflatable hot tub, we recommend you seriously consider getting the Bestway Hawaii Inflatable Hot Tub with Music Center.  Although it is definitely not a 6 person inflatable hot tub, it is a robust and sturdy model which can seat 4 adults in comfort. It has some great features, including the powerful massage system, inflatable lid, and the excellent Energy Saving Timer. Add in the couple of hundred dollars' worth of extras, and you've got a great deal all round.

5 votes